Beef Tacos With Parmesan Shells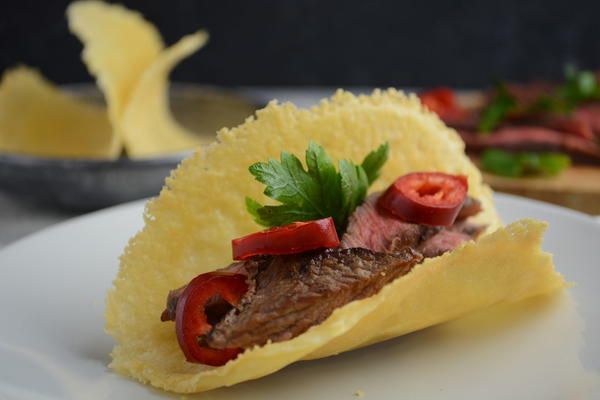 Beef Tacos With Parmesan Shells
"Quick, easy, and low-carb, these steak tacos wrapped in cheese-based shells are sure to become your keto favorite. The cheesy "taco" shells go really well with the sirloin steak. And while seasoning may seem simple, the recipe actually results in a complex-tasting taco that's bursting with flavor. If you want to recreate a classic steak taco served at your favorite Mexican restaurant, then go for skirt steak instead of sirloin steak. Skirt steak is one of the more flavorful cuts of beef, and it also has a sinewy texture."
NotesAt only 1g net carb and 15g of fat per serving, this is truly a ketogenic dish you can enjoy for lunch, brunch, and dinner. One serving also comes with 22g of quality protein, which is around 50% of the recommended daily intake for the average sedentary person. You will also get plenty of B vitamins important for nervous system functioning and the making of red blood cells as well as iron, zinc, and selenium.
Serves4
Ingredients
2 5oz. top sirloin steaks
Salt and pepper, to taste
Steak seasoning, if desired
Cooking spray
2 red chili peppers, seeded, chopped
Chopped parsley
1 cup grated Parmesan cheese
Instructions
Season steak with salt and pepper and let rest for 5 minutes.

Spray a skillet with cooking spray.

Sear the steaks for 4 minutes on each side. Once done, place aside and cover with aluminum foil to keep warm.

To make the tacos shells, sprinkle ¼ of the Parmesan in a non-stick skillet and shape it into a circle.

Set over medium heat and once the Parmesan starts to melt/sticking together (at about 30-40 seconds), lift gently with a palette knife and flip. Cook for another 15 seconds.

Set the Parmesan crust over something log shaped, for example, a tall glass or rolling pin. This will help create a taco shell shape. Let cool at room temperature.

Repeat with remaining cheese.

Slice or shred the meat and fill Parmesan shells with the meat, chili pepper, and parsley.
Your Recently Viewed Recipes