Penny's Pecan Cinnamon Rolls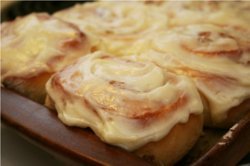 There's nothing like the smell of a fresh baked cinnamon roll. The smell makes you dream of biting into a heavenly delight that will take you away to paradise. This wonderful cinnamon roll recipe is filled with pecans and a sweet cream cheese frosting. The best part is when you stop breathing in the enchanting aroma and take your first bite.
Ingredients
For the Dough:
4 cups bread flour
2

1

/

4

teaspoons active dry yeast
1 cup milk

1

/

3

cup unsalted butter

1

/

3

cup sugar

1

/

2

teaspoon salt
2 eggs
For the Filling:
2 tablespoons unsalted butter, softened

1

/

4

cup packed light brown sugar
2 teaspoons ground cinnamon

3

/

4

cup pecans, chopped
1 tablespoon flour
For the Icing:
8 ounces cream cheese, softened
4 tablespoons unsalted butter, softened

1

/

4

teaspoon vanilla
1 cup powdered sugar
2 tablespoons milk
Instructions
Preheat oven to 350 degrees F.

In a Kitchenaid mixing bowl, combine 1 1/2 cups bread flour and yeast. Set aside.

In a saucepan, heat the milk, 1/3 cup butter, sugar, and salt until 120 degrees F. Remove from heat and stir until the butter is melted. Add to the flour and yeast.

Mix on low, using a regular paddle, adding the eggs one at a time.

Change the mixer attachment to the dough hook. Beat the dough at low, adding the remaining flour a little at a time. Increase speed to medium until a soft dough forms, approximately 3 minutes.

Turn the dough out onto a floured surface and shape dough into a ball. Place in a lightly greased bowl, turning once to coat both sides. Cover with a clean dish towel.

Allow the dough to rise in a warm place until doubled, about 1 1/2 hours.

Punch the dough down and turn out onto a floured surface. Cover and allow to rest for 5 to 10 minutes.

Combine the light brown sugar, ground cinnamon, chopped pecans, and flour for the filling.

Roll the dough into a rectangle, approximately 20 inches by 10 inches. Spread with softened butter. Sprinkle with the filling mixture, leaving a 1 inch space on one long edge without filling.

Starting on the long side, roll the dough up, working it tightly but without pulling the dough too much. Seal the long edge by pinching it shut.

Cut the dough into 12 even slices by cutting the dough in half, cutting those halves in half and then the quarters into three slices each.

Place each roll in a large bar pan sprayed with non-stick cooking spray, allowing about one inch between them. Cover and allow to rise in a warm place about 40 minutes or until doubled.

TIP: Before allowing the final rise, rolls may be tightly covered and placed in the refrigerator for up to 24 hours. Remove from the refrigerator and allow to rise before baking.

Bake at 350 degrees F for 25 to 30 minutes.

While the rolls bake, combine the cream cheese, butter, and vanilla, stirring until well blended. Stir in the powdered sugar and then add the milk a little at a time until reaching the desired consistency.

Remove rolls from the oven and spread with icing.
Your Recently Viewed Recipes