How to Reheat Turkey and Other Tips for Reheating Leftovers
Reheat turkey safely and easily for perfect leftover turkey sandwiches and more!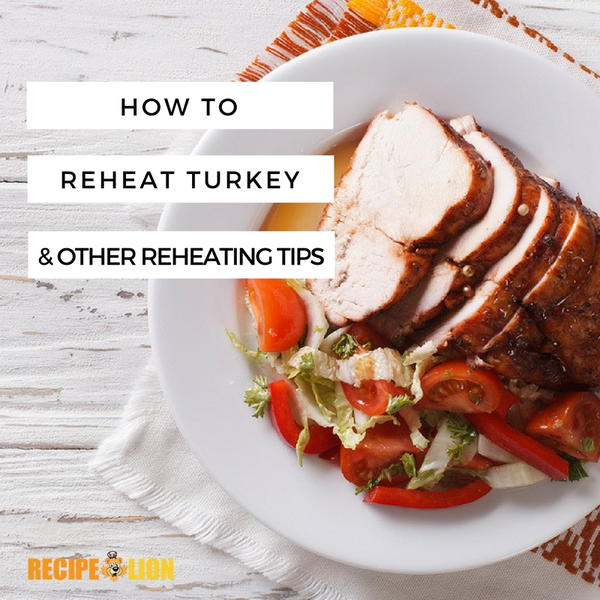 It's the day after Thanksgiving and you're hungry. Thinking of grabbing some leftover turkey from the fridge? Learn How to Reheat Turkey and Other Tips for Reheating Leftovers, so you can make a perfectly-moist post-Thanksgiving turkey sandwich. Whether you're partial to reheating leftovers in the microwave or the oven, you definitely don't want to dry them out and be left chewing on rubbery turkey. With the easy tips below, you'll be left with turkey that tastes almost as good as the day it was prepared. We've also included tips for retaining the most nutrients in your food because there's nothing worse than nuking your food into a firey oblivion that burns your tongue and leaves your body void of any of it's original goodness. Learn how to reheat your turkey fast and simple with the steps below and keep the holidays alive with every leftover bite!

Plus! Check out these fantastic turkey leftover recipes below!
How to Reheat Turkey
In the microwave: Spoon gravy or broth over turkey. Cover with wax or parchment paper and heat at 30-50 percent power (low to mid range) until warm. This method is best for individual portions.

In the oven: Preheat oven to 350°F. Lay turkey out on a roasting pan and pour broth over it. Bake for 30-45 minutes until turkey is heated through (You can check for an internal temperature of 140°F). This method is best for reheating a large portion for a crowd.

Pro tip: Always carve your turkey before you place leftovers in the fridge. You should eat or freeze leftover turkey within 3 days of cooking it for health and safety reasons.
Other Tips for Reheating Leftovers
Did you know that food loses a lot of it's original nutriets when it is cooked? If you're reheating food that was already cooked, you're losing even more of it's nutrients, which is really sad when you think about it. To make the most out of your leftovers, only reheat the portion of food you plan on eating (i.e. grab a single serving of spaghetti vs reheating a whole pot).

In order to keep most of the nutrients in your food, stovetop reheating is the best method. It will gradually restore heat in your meal rather than zapping it quickly in the microwave.

Another great option to retain the vitamins and nutrients in your leftovers is reheating using the oven. Be sure to preheat your oven to around 300-325 F to reheat food. Cover the food and only cook until it is heated through.

If you've chosen to freeze leftovers, it's important that you thaw them properly in the fridge before reheating.

If you are reheating leftovers using a microwave, make sure that you use a microwave-safe dish and cover your food entirely before reheating to retain moisture. Using a medium heat setting (no higher than 50%), make sure to periodically sitr your food so that heat is evenly distrubuted.

Adding leftovers to a fresh-cooked meal? Make sure to add them in at the very end and heat only until cooked through.
Leftover Turkey Recipes
Now that you know all about the ways to safely and properly reheat turkey leftovers, here are a few unique turkey leftover recipes that are a little more exciting than the classic turkey sandwich (although those are plenty delicious too!)
Your Recently Viewed Recipes
Join our community of 5 million cooks!
Get free recipes, exclusive partner offers, and more.
Thank You for Signing Up!
There was an issue signing you up. Please check your email address, and try again.