Pickled Watermelon Recipe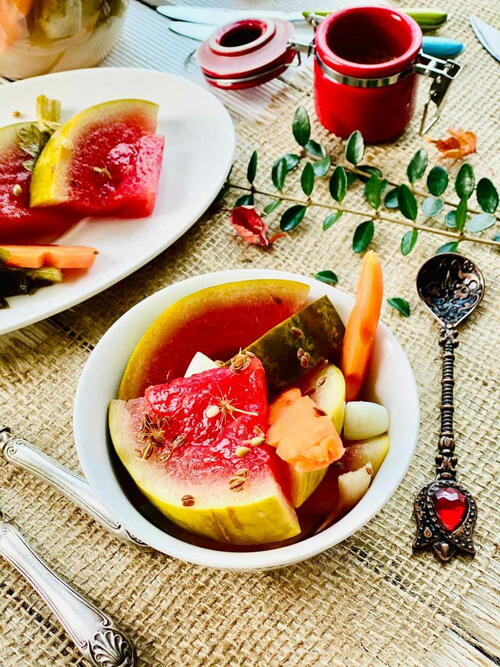 Pickled Watermelon Recipe
"Pickled watermelon is truly delicious and I do not mean just watermelon rind pickle, I mean the whole thing, rind and flesh of the watermelon. Simply sliced and put in a jar for pickling. It's divine and best served with … almost anything apart from soups and desserts. Haha, just try me. The texture of this pickled watermelon is something you will definitely enjoy and the reason for that is because it is so unique! The flavour too! Just try it and if you are a pickle-head like myself, you will definitely enjoy this with any pilaf or any fried meat or BBQ. "
Serves12
Ingredients
1 medium watermelon
3 stalks celery with leaves (optional)
4 cloves garlic
1 tbsp dill seeds dried or fresh dill plant
1 litre water
1 tablespoon salt non-iodized or kosher
2 medium zucchinis/ courgettes cut into 4 chunks/halves/quarters
4 medium carrots organic
Gather all the ingredients and prepare them by washing, chopping, cutting, peeling, whatever is needed. Have the jars ready too. No need to sterilise these but just a good hot water rinse.

Place a few celery stalks with leaves (if you chose to add these) at the bottom of each jar. Arrange the best you can the melon slices into the prepared jars, push in between the melon slices some zucchini chunks and a few carrot chunks or sticks. Do this until all melon has been jarred.

Fill up all jars with water and then pour the water back out in a measuring jug. Hold the top watermelon pieces so that they do not fall out. We do this to know exactly how much water is needed for your batch and the amount of salt to add.

Once you know the water amount, add 1 tablespoon (25g /0.89oz) salt for each litre of water (see notes for more quantities) and mix until the salt has dissolved. Warm up the water if you wish the watermelon to pickle super fast.

Pour the water and salt back into the jars over the melon, add the remaining ingredients into each jar place the lid and give each jar a little shake.

Place one jar into a nice and bright spot (into the sun) and the other(s) into a shadowy corner so they will get to pickle a little later. Remember to give these a shake once or twice a day making sure the lid is nice and tight and open the jars twice a day or leave the lid placed on top without tightening it. So, tighten lid – shake 2-3 times – open – place the lid back and leave it loose.
Your Recently Viewed Recipes
Join our community of 5 million cooks!
Get free recipes, exclusive partner offers, and more.
Thank You for Signing Up!
There was an issue signing you up. Please check your email address, and try again.