Smoked Brisket Sandwich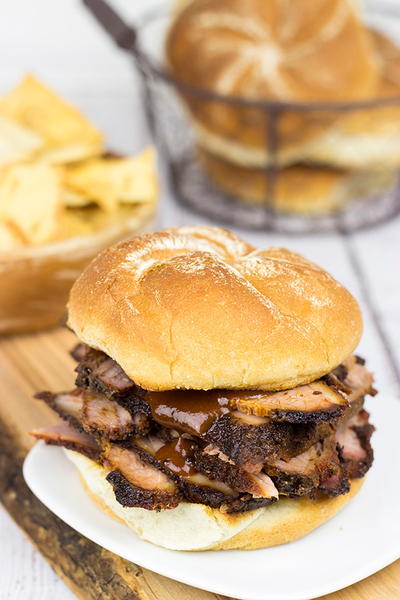 Smoked Brisket Sandwich
"Using a smoker is not nearly as hard as you might think! Here are a couple of easy tips. First, use lump charcoal. Unlike charcoal briquettes, lump charcoal is actually made out of wood. It also burns much longer and produces less ash than briquettes. It's an absolute must when it comes to smoking! Second, use wood chunks instead of wood chips. Similar to lump charcoal, wood chunks burn much slower than smaller wood chips. Wood chips are great for grilling, but I prefer chunks when smoking. Third, use a probe-style meat thermometer. This is absolutely essential. When smoking meat, it's important to leave the lid of the smoker closed as much as possible. A probe-style thermometer makes it possible to monitor the internal temperature of the meat without ever opening the lid of the smoker. Adjust the temperature gradually (if needed). To do this, just make slight adjustments to the air valves as needed.

Last but not least, leave yourself plenty of time! Smoking isn't hard at all, but it does require time. Pick a day when you have chores to do around the house or in the yard. You won't need to stand there and watch the smoker all day, but you should plan on being nearby! Since smoking takes a good bit of time, I usually don't try to have it ready for dinner that night. The time crunch just adds stress and you can't rush low-and-slow!

Also, have fun creating different rubs, like the one included in this recipe! It's slightly spicy with just a hint of sweetness and it works perfectly for the brisket. Remember, only the outer portion of the meat will have the rub on it, so it's totally fine if the rub is a bit on the sweet or spicy side!"
Your Recently Viewed Recipes
Join our community of 5 million cooks!
Get free recipes, exclusive partner offers, and more.
Thank You for Signing Up!
There was an issue signing you up. Please check your email address, and try again.