Spicy Boneless Roasted Pork Belly Recipe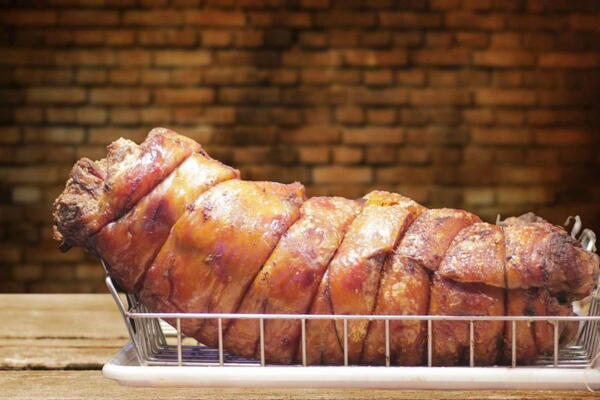 Spicy Boneless Roasted Pork Belly Recipe
"Cebu-style roasted pork belly rolled into lechon shape, filled with green onions, lemongrass, and chilis. This boneless roasted pork belly is best paired with cane vinegar with crushed garlic because it's usually saltier and more flavorful than the roasted pork belly from Luzon. Boneless roasted pork belly is a great alternative to the whole pig roasted, because aside from it being more affordable, it's also more presentable at the table without the head staring right at you. This can easily be the star of any potlucks, parties, get-together, or even when giving it as gifts. "
Serves10
Cooking MethodCasserole, Grilling
Ingredients
2500 grams pork belly choose the less fatty ones
5 stalks fresh lemon grass
8 stalks fresh green onions with the white part
2 whole garlic sliced crosswise
2 tablespoons fine iodized salt
2 tablespoons ground black pepper
2 chopped red chili or cayenne powder
Butcher's twine
Soy sauce
Water depends on the container you will use
Canola oil
Deep container enough to completely submerge the pork belly
Sea salt
Brown Sugar
Lemongrass
Red onions
1/2 cup Cane vinegar
2 clove of crushed/minced garlic
1 tablespoon finely chopped red onion
2 teaspoon salt
pinch of ground black pepper
Sili optional
Instructions
Prepare your brine. Just simply add 3tbsp sea salt and 2 tbsp brown sugar to every 1 liter of water used. With 2.5kg pork belly, you may need about 3 liters of water. In a pot, put your brine mixture with 1 stalk lemongrass and roughly chopped red onions. Bring it to a soft boil for about 5 minutes, to ensure aroma and taste from the herb and spice have combined well into the brine. Let it cool completely.

Prepare your pork belly. Wash and rub it with sea salt three times to remove any impurities. After washing, on a dry and clean surface, lay the pork belly flat, skin-side down. Using a pair of kitchen scissors, remove the white fat-like layer, as this will make your lechon very greasy. Once done, using a kitchen knife, score the meat just about a half a centimeter deep. Scoring the meat means cutting slits on the meat. This will help in absorbing the brine and the rub later on.

Brine the pork belly. Put your prepared pork belly in your container, then pour your brine. You can also include the lemongrass and red onions. Refrigerate (not freeze) for at least 12 hours.

After brining, wash the pork belly with tap water about two times, to remove excess saltiness.

Pat it dry with clean kitchen towel. Lay the pork belly flat, skin-side down, on a clean surface.

Rub the salt and pepper all over the meat, except the skin. Adjust your salt and pepper according to your liking.

Prepare the herbs. Clean the lemongrass and green onions, and make sure to remove the roots and dirt, as well as the dry layers. Using the back of a kitchen knife, slightly pound the lemongrass stalks to release its aroma. Cut the lemongrass and green onions according to the pork belly's length.

Put the filling into the pork belly and secure. Place the lemongrass, green onions and red chili at the center of the pork belly. Roll the pork belly, and make sure that almost all of the skin is exposed, to ensure crunch when cooked. Secure properly with butcher's twine. It's normal that some herbs and spices will fall off, but you can just insert it back to the pork belly roll. Once the pork belly is securely tied, wash the skin with soy sauce, just enough to give it a light brown color. Make sure to cover all skin surface with soy sauce.

Roast the pork belly. Preheat oven at 160 degrees Celsius for about 8-10mins, and put it in rotisserie mode. While oven is preheating, insert the rotisserie rod in the pork belly and make sure it is secure enough when it turns. If your oven doesn't have a rotisserie function, you can use the oven rack or a roasting rack. Using a baking dish/pan, pour a cup of water, and place the garlic, skin-side down, exposing the flat surface. Put it inside the oven, and place just below where the pork belly will be placed. If using a rack, you can place the rack on top of the baking dish/pan. Put the pork belly inside the oven, roast it at 160 degrees Celsius for 2.5 hours. If not on rotisserie mode, manually turn the pork belly every 30mins. Brush with soy sauce-canola oil mixture every 30mins. Add water to the baking dish/pan as needed during this period. This will also give you the chance to prepare your vinegar dip, and make sure you have cooked white rice!

Make it crunchy! During the remaining 30mins, turn the heat up to 210 degrees celsius to successfully make the skin crunchy.

After it is cooked, let is sit for at least 10 minutes, then serve with vinegar dip, or Mang Tomas.
Your Recently Viewed Recipes
Join our community of 5 million cooks!
Get free recipes, exclusive partner offers, and more.
Thank You for Signing Up!
There was an issue signing you up. Please check your email address, and try again.