Chicago Style Deep Dish Pizza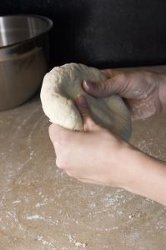 Growing up in Chicagoland, I always looked forward to getting deep-dish pizza from Lou Malnati's or Uno's. Now I know that the same taste - which I thought was specific to those restaurants - can be created at home, at a fraction of the cost. If you love deep dish-style pizza, learn how to make it at your house and you'll be eating the goods before anyone else on those game days when pizza deliveries are at an all-time high. The longest part of this recipe is waiting for the dough to rise, so you'll want to have it prepared a day before. This way, you can just throw your pizza in the oven and be ready to eat in 30 minutes or so! What better way to gather the family together than with a hot and ready deep dish pizza? Enjoy!
Ingredients
2 tablespoons olive oil
1 tablespoon chopped fresh garlic
2 teaspoons chopped fresh basil
1 teaspoon chopped fresh oregano

1

/

4

teaspoon fennel seeds

1

/

2

teaspoon salt

1

/

4

teaspoon freshly ground black pepper

1

/

4

teaspoon red pepper flakes
1 (28-ounce) can plum tomatoes, coarsely crushed
1 tablespoon dry red wine
1 teaspoon sugar
1 tablespoon extra-virgin olive oil
1 pound mozzarella cheese, sliced
8 ounces pepperoni, thinly sliced
8 ounces mushrooms, wiped clean and thinly sliced
1 green bell pepper, cored and cut into thin rings
1 yellow onion, cut into thin rings
1 cup thinly sliced black olives
1 pound crumbled hot Italian sausage
1 cup grated Parmesan
Instructions
To make the dough:
In a large bowl, combine the water, yeast, and sugar and stir to combine. Let sit until the mixture is foamy, about 5 minutes.
Add 1 1/2 cups of the flour, the semolina, 1/2 cup of the oil, and the salt, mixing by hand until it is all incorporated and the mixture is smooth. Continue adding the flour, 1/4 cup at a time, working the dough after each addition, until all the flour is incorporated but the dough is still slightly sticky.
Turn the dough out onto a lightly floured surface and knead until smooth but still slightly tacky, 3 to 5 minutes. Oil a large mixing bowl with the remaining 2 teaspoons oil.
Place the dough in the bowl and turn to oil all sides. Cover the bowl with plastic wrap and set in a warm, draft-free place until nearly doubled in size, 1 to 1 1/2 hours.
Divide into 2 equal portions and use as directed.
To create your pizza:
While the dough is rising, make the tomato sauce. In a medium saucepan, heat the oil over medium-high heat. Add the garlic and cook, stirring, for 30 seconds. Add the herbs, seeds, salt, and black and red peppers, and cook, stirring, for 30 seconds. Add the tomatoes, wine and sugar, and bring to a boil. Lower the heat and simmer, stirring occasionally, until thickened, 20 to 30 minutes. Remove from the heat and let cool completely before using.
Preheat the oven to 475 degrees F.
Oil 2 seasoned 12-inch round deep-dish pizza pans with the extra-virgin olive oil. Press 1 piece of dough into each pan, pressing to the edge and stretching about 1 1/2 inches up the sides. Let rest for 5 minutes.
Layer the mozzarella cheese all over the bottom of the pies. Top each with half of the pepperoni, mushrooms, bell pepper rings, onions, black olives and sausage. Ladle the sauce evenly over each pizza and top with Parmesan.
Bake until the top is golden and the cheese is bubbly and the crust is golden brown, about 30 minutes. Remove from the oven, slice and serve hot.
*Original recipe adapted from the Food Network.
Your Recently Viewed Recipes
Join our community of 5 million cooks!
Get free recipes, exclusive partner offers, and more.
Thank You for Signing Up!
There was an issue signing you up. Please check your email address, and try again.