Creamy Pasta With Brown Butter And Sage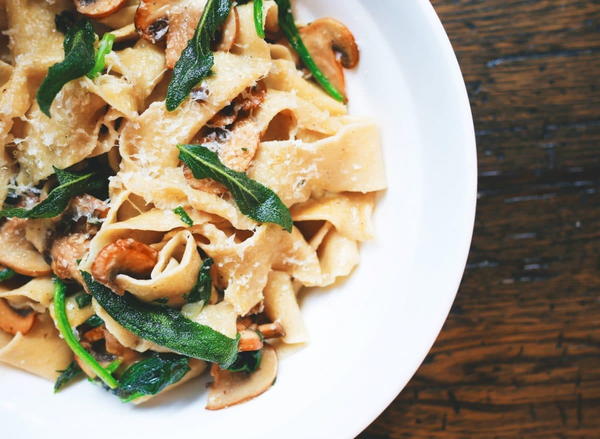 Creamy Pasta With Brown Butter And Sage
"Creamy Pasta with Brown Butter and Sage: There is something very satisfying and comforting about buttered pasta. A brown butter sauce for pasta can bring a simple pasta dish to the next level with the addition of a few simple ingredients. By the way, this butter sauce would also make an incredible for partner bread. In case you're wondering, brown butter is pretty much exactly what it sounds like. You heat butter until the milk solids brown. It creates a great nutty aroma and provides a base flavor. The other nice thing about brown butter is that you can infuse a lot of flavor into it early."
Notes You can infuse different kinds of herbs such as rosemary, thyme, basil, oregano, and mint.
Serves4
Ingredients
8 ounces dried fettuccine
5 tablespoons butter
20 fresh sage leaves
4 tablespoons beef stock
1 cup grated parmesan cheese
Salt and pepper
Instructions
Cook pasta according to package.

Meanwhile, melt butter in a heavy large skillet over medium-low heat.

Add sage leaves and cook until edges curl and butter is dark amber.

Transfer sage to paper towels.

Add stock to brown butter.

Add pasta and 5 tablespoons grated Parmesan cheese to brown butter mixture in skillet.

Toss to coat, season with salt and pepper.

Garnish with fried sage leaves, and finely grated cheese.
Your Recently Viewed Recipes