"Celebrate Mom: 26 Terrific Mothers Day Recipes" Free eCookbook
If it weren't for Mothers, none of us would be here today. What better reason to celebrate Mom? For many people, no celebration is complete without food, and Mother's Day should be no exception. Wondering what to cook for your wonderful Mom? Let us help you figure out with this terrific collection of Mother's Day recipes! Whether your Mother's Day meal is breakfast, dinner, or somewhere in between, we've got you covered.
This collection of 26 terrific Mother's Day recipes includes breakfast and brunch recipes, Mother's Day dinner recipe ideas, dessert recipes, and more. Ranging from the simple to the sublime, there's a recipe here for every skill level – from the littlest kiddie cook on up to Dad making something wonderful. Get the family cooking up something terrific for Mom, Grandma, or a favorite aunt or friend this Mother's Day, and celebrate the Moms in your life.
While you're here on RecipeLion, subscribe to our free Quick and Easy Recipes newsletter to get free recipes delivered to your inbox every week.
Have a very happy Mother's Day!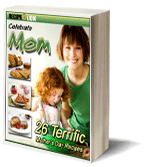 Click here to download the free eCookbook now. [pdf]
Included in this 52-page eCookbook:
Breakfast and Brunch Recipes for Mother's Day

Mother's Day Frittata Recipes

Mother's Day Lunch and Dinner Recipes

Mother's Day Dessert Recipes
Apple Cinnamon Breakfast Quesadillas — What could be better for breakfast than apples and cinnamon? This fantastic apple cinnamon breakfast quesadilla! It's quick and easy, and super delicious. Make it for Mom, make it for yourself. Anyone who eats it will simply love it. (page 17)

Cheesy Bacon & Egg Brunch Casserole — This one-dish brunch casserole is ideal for a crowd. Add a fruit salad and you can sit back and enjoy your company. (page 21)

Great Bear Florentine Muffins — From early May through October, Great Bear Nature Tours offers grizzly bear viewing excursions from Port Hardy to a beautiful river valley on the central coast of British Columbia. All year round, you can order the fantastic Florentine muffins at the lodge there. Moist and delicious, a perfect light lunch or accompaniment to dinner, you'll love them! (page 25)
Grand Traverse Morel and Asparagus Frittata — What a lovely way to feature some of our favorite foods! Asparagus is such a natural for a frittata, and the addition of the morel mushrooms makes this recipe perfect for lunch, brunch, or dinner - any time you want a hearty, tasty dish. (page 12)

Market Day Farm Fresh Frittata — Easy and so good tasting, this frittata recipe is perfect for a Mother's Day or Easter brunch, for a lazy Sunday at home, or even a delicious dinner. With minimal prep time and only 20 minutes to cook, you'll have a meal on the table lickety split! (page 15)
King's Hawaiian Ham & Cheese Casserole — Perhaps the perfect meal, this ham and cheese casserole is made extra good because it uses that sweet King's Hawaiian bread that we all know and love. Great for a Mother's Day brunch, a weeknight dinner, any time - this casserole is sure to please. (page 35)

Mangia La Lasagna — For Mother's Day, chefs of all ages and culinary skill can create this delicious and easy-to-make dish - Mangia La Lasagna - and spoil their moms with a tasty meal to celebrate her on this day. (page 38)
Naturally Nora Chocolate Bundt Cake — This chocolate bundt cake recipe is a great one for moms to make with their kids and enjoy together on Mother's Day. Nora Schultz, the founder of Naturally Nora, is a mother who often makes this cake with her 2 girls. Make it with your kids too! (page 46)

Morrison's Lodge Apple Walnut Torte — This awesome apple walnut torte helped put Morrison's Lodge on the map back in 1993. The best apples to use are Granny Smiths, Newtons, or Braeburns, but if you have a favorite, go and and substitute it. With this recipe, any apple will taste fantastic! (page 50)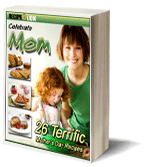 Click here to download the free eCookbook now. [pdf]
For help downloading this eCookbook, please see our guide on how to download our eCookbooks.

To view and download the complete collection of free RecipeLion eCookbooks, click here.
Your Recently Viewed Recipes