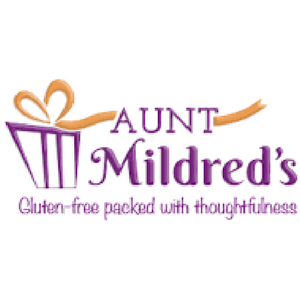 At Aunt Mildred's, we're proud to deliver gluten free gift baskets that even your gluten-eating friends, relatives and coworkers can appreciate! We offer gift box and gift basket delivery, with free shipping on orders over $75.

We have many years of experience dealing with multiple food allergies, and that has given us the ability and inspiration to make the most creative gluten free gift baskets you'll find anywhere. Not only do we offer gift boxes and baskets that are ideal for sharing with everyone in the office, but we also carry products that are great for helping your friend or loved one whip up a gluten-free gourmet meal!

Our products contain healthy, high quality ingredients that are creatively combined. Choose from fruit baskets featuring the freshest and most flavorful produce; gifts that let the recipient pamper himself or herself, such as our "Tea, Coffee and Cookies" gift basket; or a collection of gluten-free delicacies for a specific meal, such as our "Classic Breakfast" gift basket or our "Fall Soup" basket.

Looking for gift baskets or boxes for men who are gluten free or have other dietary restrictions? Many of our products make thoughtful presents for guys as well as women -- especially when they contain easy to prepare treats like gluten free mac and cheese, or delicious snacks that can be enjoyed anytime.

A food allergy doesn't have to mean you can't give a beautiful and creative gift. Browse our many gluten free gift baskets available for delivery, and get inspired!
Your Recently Viewed Recipes