Rainbow Trout With Potatoes And Spring Garlic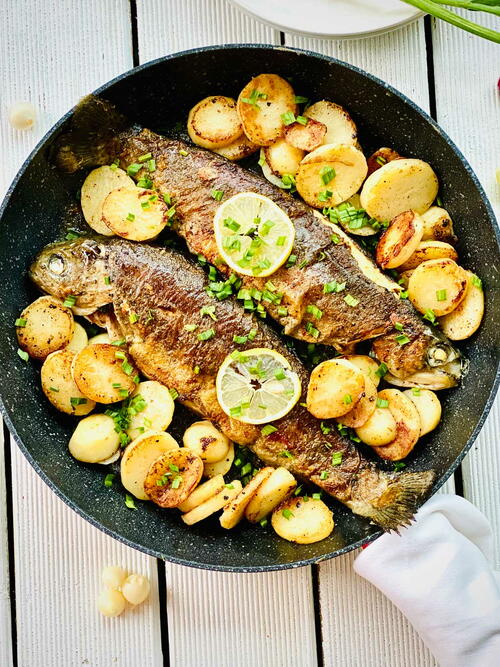 Rainbow Trout With Potatoes And Spring Garlic
"This pan-cooked rainbow trout with potatoes and spring garlic makes an amazing family Friday or any day meal. It is packed with nutritious goodness. And these potatoes… mmmm! Who said simple food isn't tasty and beautiful? Well, that is totally and utterly wrong! Who said fish and chips has to be unhealthy? Well, cook it at home in a fraction of that oil, with no batter thus a fraction of the calories. The perfect fish and chips or crisps, call them however you wish, this dish is delicious and so simple to make. "
NotesTIPS:
you may use fillet fish if you are afraid or don't like bones
do not cover the fish to avoid overcooking
keep an eye on the heat – start high and then lower it
Serves4
Ingredients
2 large rainbow trout fish whole fish (gutted and washed) or fillets
4 large potatoes
5 spring garlic or 5 medium cloves regular garlic
1/2 tsp salt pink Himalayan
1 pinch black pepper
1/4 lemon juice or cider vinegar
4 tbsp fresh herbs I used the spring garlic leaves but parsley and chives will work great too
2-3 tbsp cider vinegar optional to drizzle over when serving
Instructions
Peel, wash and cut the potatoes into the desired shape. I fancied slices this time. Chunky chips or wedges will be as good.

Season the fish with salt and pepper and place some herbs and a little garlic in the inside of the fish.

Take two pans out for simultaneous cooking, place both on medium fire.

When both pans are fairly hot, add a drizzle of olive oil into each pan and add the fish in one and the cut potatoes into the other. Cover the potatoes but not the fish. Lower the heat for the fish and cook for at least 4-7 min on one side, until the fish will no longer stick to the pan.

Meanwhile, give the potatoes a little seasoning and toss them by wiggling the pan (just like a pro haha) but using a wooden spoon its okay too at least at this point as they are still sturdy. Ideally, would be to avoid using any utensils so that potatoes remain whole and are not smashed. If they stick do allow them to cook further until they get a crusty layer on the outside. They will release themselves from the pan. Add a drizzle of extra oil if you feel it is necessary.

Once the fish cooked on one side turn the fish gently on the other side and cook for a further 5-6 min on medium fire. If you are using fillet, this will cook in half the time.

Give the potatoes another toss and cook uncovered for another 5-6 minutes tossing them occasionally until they have cooked thoroughly.

Paste the garlic and add to the potatoes and the fish in the last minute of cooking. Season more if you think it's needed. Turn off the heat and serve immediately with a side salad or some cooked vegetables or greens.
Your Recently Viewed Recipes