Easy Layered Pumpkin Delight
Complete with graham cracker crust, this delicious pumpkin delight is a new fall classic!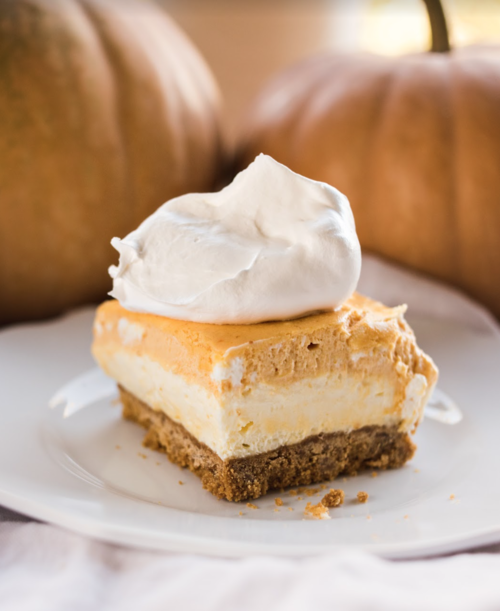 Easy Layered Pumpkin Delight
If you're looking for a Thanksgiving recipe that will "wow," you've come to the right place!

Easy Layered Pumpkin Delight takes the best parts of pumpkin pie -- sweet-and-spicy pumpkin, crisp graham cracker crust, and creamy whipped topping -- and transforms it into a brand new dessert that everyone will love.

With each bite of pumpkin delight, you'll get layers of rich flavor and light, fluffy texture. It's completely delicious, and it's also really easy to make!

If you find pumpkin pies to be intimidating to prepare, give this dessert a try. You'll get an equally tasty result, with a fraction of the work.
Serves8

Ingredients
1

1

/

2

cup graham cracker crumbs
4 tablespoons unsalted butter, melted
4 8-ounce packages of cream cheese, room temperature
1

1

/

2

cup sugar
4 eggs
1 cup canned pumpkin puree
2 teaspoons pumpkin pie spice
whipped topping
Pumpkin Delight Recipe
Instructions
For the crust: Preheat oven to 300 degrees.

Line a 9x13 inch baking dish with parchment paper, leaving about 1 inch of paper hanging over the sides.

In a medium bowl, combine the graham cracker crumbs with the melted butter. With your fingers, press the crust into the bottom of the prepared pan. Set aside while making the filling.

For the Filling: Using a stand mixer fitted with the paddle attachement, beat the cream cheese and sugar on medium speed until light and fluffy. Beat in the eggs, one at a time, until blended. Spoon half of the mixture over the crust and spread evenly.

Add the pumpkin puree and pumpkin pie spice to the remaining mixture. Beat until smooth. Carefully spoon over the mixture in the pan.

Bake for 50 minutes, or until just set. Turn off the oven and leave door ajar, allowing the cheesecake to slowly cool down for about 1 hour.

Cut into bars, top with whipped topping and serve!
Your Recently Viewed Recipes