How to Make Caramel Apples
Make some special, spooky, and delicious treats this year with our easy caramel apple recipe!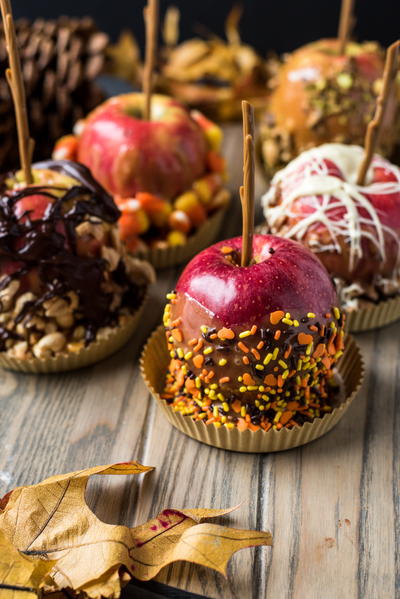 How to Make Caramel Apples
If there's one thing we love about the fall, it's all the treats! And if there's one treat we love, it's caramel apples. They're one of the easiest treats to make, and there are so many great combinations to explore in the process.

We'll show you a super easy way to make caramel apples that makes this a fun activity to do with the kids or in preparation for a Halloween party. Whether you want to deck out your apples to the fullest or keep them completely traditional, this easy, step-by-step guide will show you how to perfect this festive confection in no time! 

Half the fun of making caramel apples is picking out different ways to decorate them! Whether you choose sprinkles, candy, chocolate, or anything in between, the possibilities are endless! Just pick your favorite sweets, and stick them on the caramel as it dries. Easy as 1, 2, 3. 

Watch out Halloween, we're coming for ya!
How To Make Caramel Apples
Ingredients:
6 apples*
1(14-ounce) bag individually wrapped caramels, unwrapped
2-3 tablespoons milk

Additional Toppings:
Chopped nuts
Candy Corn
Chopped toffee candy
Sprinkles
Melted chocolates
Wooden skewers, lollipop sticks or plastic craft branches

*Note: Scrub the apples to remove wax with an equal combination of warm water and apple cider vinegar. Rinse the solution from the apples and dry them well.
 
Instructions
Remove the stem from each apple and insert craft stick.
Line a baking sheet with parchment paper and lightly spray with cooking spray.

Place the caramels and 2 tablespoons of the milk into a 4-cup heatproof glass measuring cup.
Microwave for 1 minute. Stir and microwave another minute. If caramel seems too thick add the additional 1 tablespoon milk and microwave for an additional 30-60 seconds.

Working quickly dip/roll each apple in the caramel.
Roll in optional chopped nuts, candy corn, chopped toffee or sprinkles.
Let apples set on baking sheet for 20-30 minutes before dipping or drizzling with melted chocolate.

And just look at your finished product. The most impressive caramel apples you're likely to find this fall at any party you attend. Nice work!
More Fall Favorites You'll Love!
Your Recently Viewed Recipes