Apple and Walnut Pizza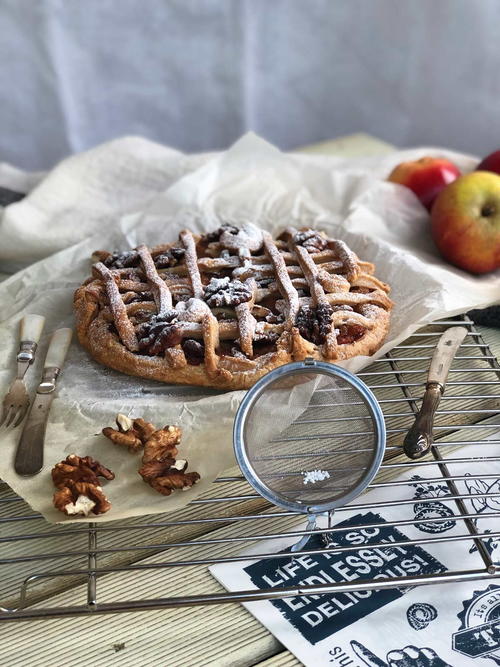 "This exquisite apple and walnut pizza or pie is crisp on the outside and soft inside. the apple-walnut combination makes this feel like you have just had a slice of heaven. A little more about the wonderful walnuts …. Walnuts are wonderful little things, I always say they are things with little brains. They make a beautiful snack and are not only delicious, they're full of super healthy fats (the unsaturated ones = good fats), packed with the best antioxidants, protein, vitamins and minerals."
Notes- I only used 170g sugar because the apples were quite sweet and I dislike the apple filling being too sweet. Add this amount of sugar and taste it. Add more sugar if you feel it isn't sweet enough for you.

- Walnuts I always buy those in shell as I was saying earlier. Walnuts are super oily and when breaking the shell if it's not done pretty gently the nuts will get bruised. Due to the high content of oils the kernels will go stale and taste rancid fairly quick. I store them in their own shell and break as much as I need whenever I need them. They are sensitive little things, you know?! I therefore strongly recommend you break them as you need them for best results.

Serves4 People
Ingredients
180 g flour I used ½ white ½ wholemeal
100 g cold butter cut into small cubes
20 g icing sugar + some more for dusting
1 egg yolk I used organic
1 kg apples organic
1 tbsp cinnamon powder
170 g sugar * or more
1 tsp rum essence
2 tbsp semolina
80 g walnuts toasted * plus a few extra to add on top
Instructions
Prepare a 20-22cm ovenproof dish. Grease and set aside.

To make the pastry we need to place all dry ingredients into a food processor and blitz till mixture becomes and looks like bread crumbs.

Add egg yolk and 1 tbsp water. Carry on mixing, add a tiny little more water if required until the dough comes nicely together.

Tip it out into a bowl, knead a little more and cover with cling film. Wrap and allow to rest in the fridge for approximately 30 minutes or so.

While the pastry dough rests, let's prepare the apples by peeling and coring them. Cut into chunks and place into a food processor. Pulse 3-4 times and add those to a deeper frying pan. Might need to do this in a couple of batches or even more, depending on the size of your food processor.

Chop the walnuts (leaving some halves aside to use on top at the end). Toast the nuts for literally 1 minute and set aside.

Preheat the oven at 180C or 375F. Place the minced apples on a medium fire and cook with the sugar for about 5 minutes until nice and soft. Add cinnamon, the chopped and toasted walnuts and the rum essence. Set aside. Allow to cool for a few minutes.

Take the pasty out of the fridge. Roll on a flour dusted surface creating a 1/2cm thickness pie base. Shape into the shape of your oven dish. Arrange on the bottom of the dish.

Place some parchment paper over the dough sheet and bake (using some baking beans or another weight) so it does not rise much.

Bake the pastry base for 8-10 min. Take out when ready, remove the weight or the baking beans as well as the parchment paper. Sprinkle on the bottom of the pie the semolina (evenly) and top it up with the apple mixture. Spread evenly.

Create some strips (if any dough is left) place on top creating a design of your choice. Mine is a silly one ??

Add the half walnuts on top and bake for about 20 min at 180C/375F.

Serve with a little dusting of icing sugar and enjoy warm or cold with or without a scoop of ice cream.
Your Recently Viewed Recipes
Join our community of 5 million cooks!
Get free recipes, exclusive partner offers, and more.
Thank You for Signing Up!
There was an issue signing you up. Please check your email address, and try again.