Baked Amish Apple Custard Dessert
This delicious baked apple dessert is an Amish staple - and soon to be your family's favorite dessert!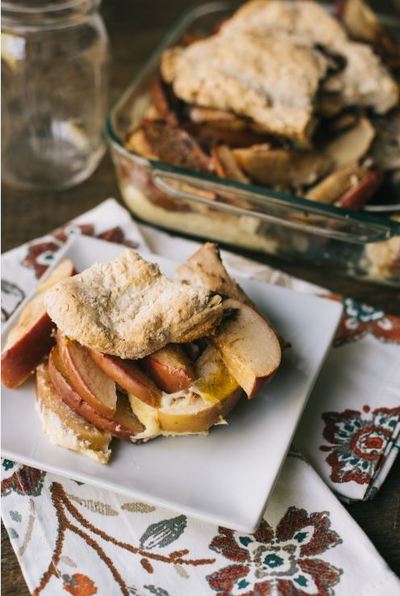 Baked Amish Apple Custard Dessert
Baked Amish Apple Custard Dessert might just be the easy fall dessert you've been searching for. Half cobbler, half pie, this simple apple dessert is sure to be a hit with everyone who tries it. This is a great recipe with which to start out the fall baking season. Made with wholesome ingredients in between a simple crust, this Amish Apple Custard Dessert is sure to become a favorite among your family. If you like to go apple picking come those brisk fall days, this is the perfect apple dessert recipe to make to enjoy the fruits of your labor.
Ingredients
1 cup all-purpose flour
1 teaspoon baking powder

1

/

8

teaspoon salt
1

1

/

4

cup whole milk (divided into ½ cup and ¾ cup)
5 -6 cored, peeled, and sliced apples

3

/

4

cup granulated sugar
1 teaspoon cinnamon
2 eggs
1 tablespoon lime juice
Instructions
Preheat oven to 400 degrees F. You will need a square baking dish (an 8x8-inch or 9x9-inch will do).

Prepare soft dough by mixing together the flour, baking powder, salt, and ½ cup. whole milk in a small bowl. The dough will be quite soft, but use the least amount of flour necessary during the next step.

Take half of the dough and roll it out on a surface dusted with flour till it is the size of the bottom of a square dish.

Grease the bottom of the baking dish. ​Carefully transfer the rolled out dough to the dish and use your fingers to finish forming it to cover the base.

Core, peel, and slice apples into water mixed with a little lime juice to prevent browning. ​Do this after you make the dough so the apples are not sitting in the water too long.

Drain apples and distribute them evenly over the dough in the pan. ​Sprinkle with cinnamon and the ¾ cup sugar.

Whisk together the 2 eggs and ¾ cup whole milk. Pour the egg and milk mixture over the apples.

Roll out remaining dough large enough to mostly cover the apples in the pan. Carefully place the rolled out dough on top of the apples and eggs. You do not need to seal it to the edge.

Bake at 400 degrees F until apples are soft and custard is set, about 45 minutes.
Your Recently Viewed Recipes