Easy Slow Cooker Pork Chops and Gravy
You can make these easy pork chops in a slow cooker with gravy (yes, gravy!) any night of the week.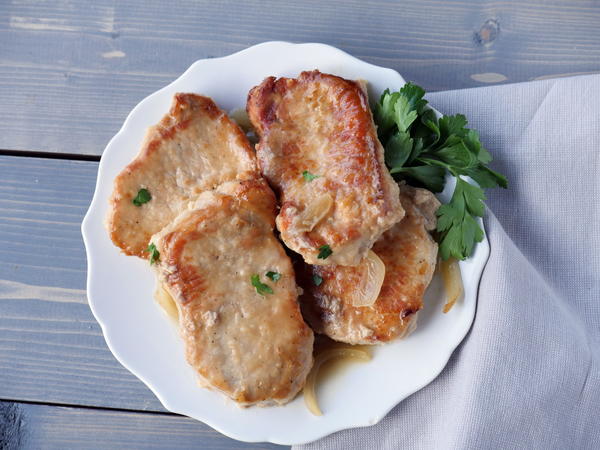 Easy Slow Cooker Pork Chops and Gravy
If you're looking for a simple weeknight dinner that the whole family will love, then you are in the right place!

Easy Slow Cooker Pork Chops and Gravy is so rich and delicious. You'll brown the pork chops in olive oil and butter to add a crisp crust and plenty of succulent flavor. Then you'll make a homemade gravy in the skillet (no canned soup in sight!) and let the whole meal become fork-tender in the slow cooker. Serve this dinner over rice or egg noodles. Both will soak up the delicious pork chop gravy, making a complete meal with minimal effort.

You might be thinking that making slow cooker pork chops without canned soup is difficult, but we know this recipe will convince you otherwise! Just watch the video below to learn how simple it is to make your own gravy. This homemade version has so much more flavor; we know your family will be able to tell the difference! They will ask for this meal again and again. And, luckily, it's so effortless that you won't mind at all.

Enjoy these delicious slow cooker pork chops and homemade gravy!

Sign Up for Free Recipes
Serves4
Slow Cooker Time HIGH3 hr
Cooking MethodSlow Cooker

Ingredients
4 center cut pork chops

1

/

2

cup flour

3

/

4

teaspoon poultry seasoning

1

/

2

teaspoon salt
2 tablespoons olive oil
1

1

/

2

cup chicken or beef broth
1 medium onion, chopped
Easy Slow Cooker Pork Chops and Gravy
Instructions
Place flour, poultry seasoning and salt into a zip-top plastic bag and shake to mix. Add chops and shake until they are lightly coated.

Heat a heavy skillet large enough to hold all the chops over medium high heat, adding the oil until it shimmers. Place the chops into the pan and saute 2 - 3 minutes per side until golden brown.

Remove chops from the pan and, still on the heat, add 2 tablespoons flour mixture from the plastic bag into the skillet, stirring a few seconds to cook the flour. Add about ½ cup of the broth to the skillet and cook and stir to lift any browned bits from the pan. Add the remaining broth to the pan and turn off the heat. Reserve the remaining flour mixture for later.

Place the onion into the bottom of the slow cooker and lay the pork chops on top. Pour the liquids from the pan over the chops, cover and cook on high 2 hours.

Open the cooker and ladle out about ¼ cup of the resulting juices into a small bowl. Stir in the remaining flour mixture from the plastic bag into the juices until completely smooth. Return this mixture to the slow cooker, stirring to mix. Cover and continue to cook 30- 45 more minutes.

Serve with mashed potatoes, using the sauce in the pot as gravy.
Editor's Note:
This is a typical southern dish often called "smothered pork chops."
How to Make Delicious Pork Chops
Pork chops are one of those meals that can be unfairly maligned. Home chefs worry about cooking dry pork chops or serving a flavorless dinner. Luckily, with a few simple tricks, you can let those worries fade away! Here are answers to some common questions about cooking pork chops.

Should you brown pork chops before slow cooking?
Yes, you should brown pork chops before slow cooking! Browning pork chops in a skillet with some oil or butter will add a nice color and rich flavor to your slow cooker pork chops. This step only takes a few minutes, so don't skip it!

Can you stack pork chops in a slow cooker?
No. For best results we don't recommend stacking pork chops on top of each other for this recipe or others. A little overlap is fine, though! Stacking pork chops on top of each other may increase the cooking time on the recipe and it may cause the pork chops to cook unevenly.
Your Recently Viewed Recipes