33 Hearty Slow Cooker Recipes eCookbook
The slow cooker (also known as a Crock-Pot®) is one of the most unfairly underutilized cooking appliances. This is unfortunate because you can use it to produce an abundance of delicious meals with almost no effort on your part; just assemble the ingredients in the pot and you'll soon have dinner. Slow cookers can be used to create a versatile array of dishes, too - we use ours to make everything from tender, juicy pork chops to hearty soups and chilis to sweet and delicious cakes.
Now that the weather is getting cooler, why not create a warm, hearty dinner in your slow cooker? You will have a great meal on the table when you want, and you'll have extra time to spend with your family or to take care of other responsibilites. Whether you love pork, chicken or beef, or if you simply want a hot soup or a warm dessert, this eCookbook has it all. Cozy up with your slow cooker this season and enjoy one of our 33 hearty slow cooker recipes.
Plus don't miss our Ultimate Slow Cooker Recipe Guide with 268 awesome slow cooker dishes!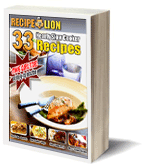 Click here to download the eCookbook now. [PDF]
Included in this 55-page eCookbook:
Slow Cooker Meat Dinner Entrees
Slow Cooker Soups, Chowders and Chilis
Slow Cooker Breads
Slow Cooker Desserts
Slow Cooker Meat Dinner Entrees

Pork Chops and Gravy - Go back to basics with this easy slow cooker pork chops recipe. Enjoy pork chops with gravy like your mom used to make. (page 12)

Barbecue Beef Short Ribs with Vegetables - This recipe couldn't be simpler. The ingredient list may be a bit daunting, but when you see the instructions, you'll definitely want to try this one. This is perfect for special occasions. (page 15)

Slow Cooker Italian Chicken - This slow cooker Italian Chicken has flavorful vegetables that will cook right in the slow cooker! You will get an entire meal in one pot, full of zucchini, carrots, chicken and more. (page 22)
Slow Cooker Soups, Chowders and Chilis
Basil and Bean Soup - This Italian bean soup is perfect for a cool autumn night sitting around the table with family and friends. You can change up the recipe and switch out vegetables for your favorites and leave out the meat for a hearty vegetarian option. (page 27)

Campbell's Slow Cooker Corn Chowder - This is one of the more unusual Campbell's soup recipes out there, and it's really tasty! It's also really easy - just use your handy-dandy slow cooker, and your meal will make itself. (page 29)

Slow Cooker Chili Verde - Chili verde is a delicious variation on tomato based chili. This great recipe is easy to make in a slow cooker and makes a delicious burrito topping or filling. (page 31)
Boston Brown Bread - Amongst New England brown bread recipes, this Boston brown bread recipes ranks supreme because of its simplicity. Make this regional specialty in a slow cooker for the best slow cooker recipe around. (page 35)

Lemon Saffron Bread - Make a lemon bread recipe that is simple and bound to please. Lemon desserts are light and tangy, and this one is super easy because it's a quick easy slow cooker recipe as well. Give this lemon bread recipe a try. (page 36)
Apple and Ginger Crumble - Apple and ginger crumble is a delicious dessert that requires no effort and no baking skill. Throw everything into your slow cooker and a few hours later you will have a warm, gooey dessert perfect with ice cream. (page 39)

Sugared Nuts - Use quick easy slow cooker recipes to learn how to make candied walnuts. This recipe for glazed walnuts is one of the best slow cooker recipes around. Easy recipes for a slow cooker do not get more flavorful than this recipe. (page 45)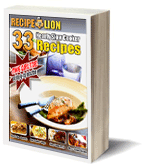 Click here to download the eCookbook. [PDF]
For help downloading this eCookbook, please see our guide on how to download our eCookbooks.

For more great FREE eCookbooks, check out the full RecipeLion eBook collection here.


Crock-Pot® is a registered trademark of The Rival Company.

Your Recently Viewed Recipes
Join our community of 5 million cooks!
Get free recipes, exclusive partner offers, and more.
Thank You for Signing Up!
There was an issue signing you up. Please check your email address, and try again.