Meatballs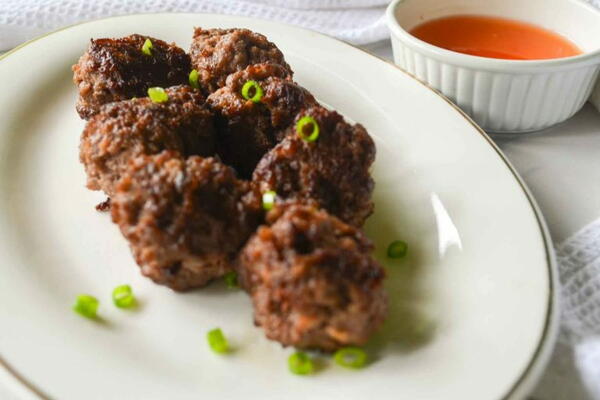 Meatballs
"Bola-bola or meatballs is a round meat mixed with different herbs and spices, and shaped into a ball. Great for pastas, soups, and sauces. Meatballs, or in Filipino- Bola-Bola, is a dish that first originated in Persia, where leftover meat was used to make a dish called as Kofta. Then it made its way to the Middle East, and China. Since Filipino cuisine is heavily influenced by Chinese cuisine, it's not surprising how meatballs made its way here. Italy also has its version of meatballs, called 'polpettes'. However, the famous meatballs drenched in marinara sauce over spaghetti, is definitely American."
Serves8 0
Ingredients
500 grams ground pork
1 large egg
1 cup bread crumbs
1 cup flour
1 tablespoon onion powder
1 tablespoon garlic powder
1 tablespoon ground black pepper
1 teaspoon ground oregano
1 teaspoon celery powder
1 tablespoon Worcestershire sauce
1/2 tablespoon iodized salt
Easy Pork Chop Recipes, Recipe for Pork, Fried Food Recipe, Delicious Recipe, Recipes for Lunch, Easy Recipes
Prepare the meat mixture. In a mixing bowl, add the ground pork, Worcestershire sauce, and salt. Mix them with your clean hands, for 1 minute. Add the onion powder, garlic powder, ground black pepper, ground oregano, and celery powder. Mix until well blended into the meat. Add the bread crumbs and flour. Mix again for another minute. Finally, add the egg, and mix with the meat mixture for 5 to 7 minutes. This will ensure that the meat and the other ingredients are well blended, and the spices and salt have activated into the meat mixture. Observe proper meat handling for food safety.

Form them into balls. Once the meat mixture is ready, using a spoon, scoop the meat and put it on your clean palm. With your two palms, do a circular motion with the meat, until it forms a round shape. It does not have to be a perfect ball-shape, so don't worry. Once you've made a round meat shape, set it aside, and continue doing the same to the rest of the meat mixture. Let the meatballs rest in the freezer for at least 10 minutes, so it can hold its shape better. If you don't have the extra time, just directly proceed to the next step.

Cook the meatballs. Heat up a frying pan under medium heat, and add 2 tbsp of cooking oil. Don't let the pan smoke for too long. Add the meatballs one by one, and as gentle as possible, to maintain the round shape. Cook each side for 30 seconds to 1 minute. In total, each meatball should be cooked in 4 to 5 minutes. If they start to lose the round shape, that's fine. Be sure to be gentle when flipping the meatballs, so they won't stick to the pan.

Serve or refrigerate for future recipes! Once all the meatballs are cooked, just let them sit for 3 minutes before cutting into them, so it retains the moisture. If you're setting them aside for future use, let them sit at room temperate for 10 minutes, before putting them in the fridge or freezer.
Your Recently Viewed Recipes
Join our community of 5 million cooks!
Get free recipes, exclusive partner offers, and more.
Thank You for Signing Up!
There was an issue signing you up. Please check your email address, and try again.