Guacamole Deviled Eggs
These easy guacamole deviled eggs will charm everyone at your dinner table.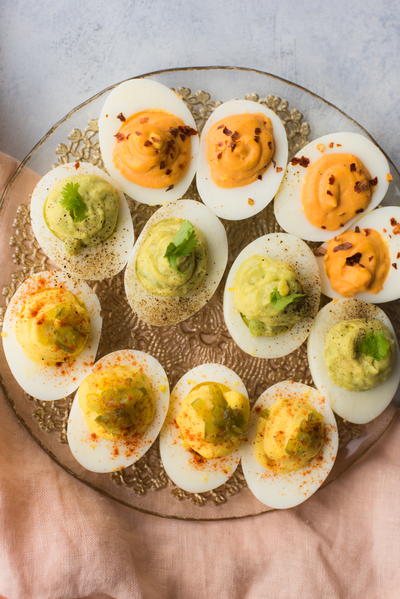 Guacamole Deviled Eggs
These delicious guacamole deviled eggs are the perfect way to bring a little color to your dinner table. They almost look too pretty to eat! But we think you'll be convinced to give them a try when you look at the ingredient list. They feature creamy guacamole, a little mayo, and the perfect crunch of fresh salt and pepper. These guacamole deviled eggs taste so good that you'll have to make another batch right away! It's a good thing that they're so easy to make. You can whip up a second helping for everyone in no time.

Ingredients
6 large eggs
3 tablespoons mayonnaise
1 tablespoon honey Dijon mustard
4 tablespoons pre-made guacamole (like Wholly Guacamole)
salt and pepper to taste
salt and pepper to garnish
Instructions
Place eggs into a small saucepan and cover with water by 1 inch. 

Bring to a boil, then lower heat to a simmer and cook for 12 minutes. 

Remove eggs from saucepan and immediately place eggs into a bowl of ice water. Let stand 5-10 minutes before peeling.

Cut peeled eggs in half and place yolks into a bowl and whites onto a serving plate.

Mash the egg yolks well with the tines of a fork, adding the rest of the ingredients to form a creamy filling.

The filling can be piped into the egg whites with a pastry bag and tip or simply spooned into the whites. Top with salt and pepper and enjoy!
Your Recently Viewed Recipes