How to Open a Bottle of Champagne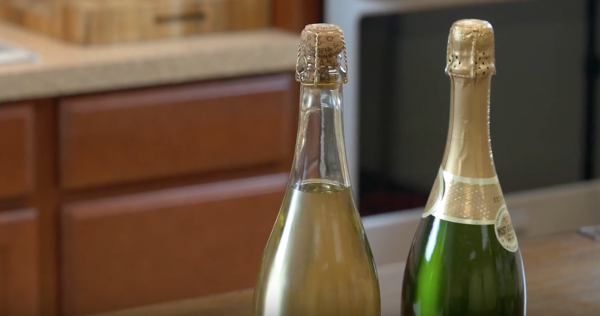 How to Open a Bottle of Champagne
Learn How to Open a Bottle of Champagne with our easy video! Uncorking Champagne can be a tricky business, so learning how to do it correctly is a must to ensure you don't take anyone's eye out or break something in the process. Be the host you've always wanted to be by learning how to entertain safely. Next time you want to host a New Year's Eve party, anniversary party, or another fancy soiree, you'll want to make sure you have something to toast with. Learning how to open a bottle of sparkling wine properly is the first step to making that happen, so brush up on your skills with this easy step-by-step tutorial. Cheers!

Ingredients
bottle of champagne
dishcloth
Instructions
Remove the foil cap by finding the plastic tab, pulling it around the cap, and throwing it away.

Next, undo the metal cage. You will want to look for the metal "key" you can untwist. Keeping one hand on on the neck of the bottle, and your thumb on the top of the cork, slowly begin to untwist the key.

Pull it off, but keep your thumb on the cork to ensure it doesn't accidentally pop off. Sometimes there's a lot of pressure build up, which could cause the cork to pop out of its own if you're not careful.

Once the metal cage is removed, grab a dishcloth and put it over the cork. Very slowly, begin to twist the cork out of the bottle.

You'll feel some pressure as you do this, so try to keep control over this so that the cork doesn't come flying out. 

Once you've removed the cork, you're ready to pour glasses. Cheers!
Your Recently Viewed Recipes