Easy Vegetable Frittata Recipe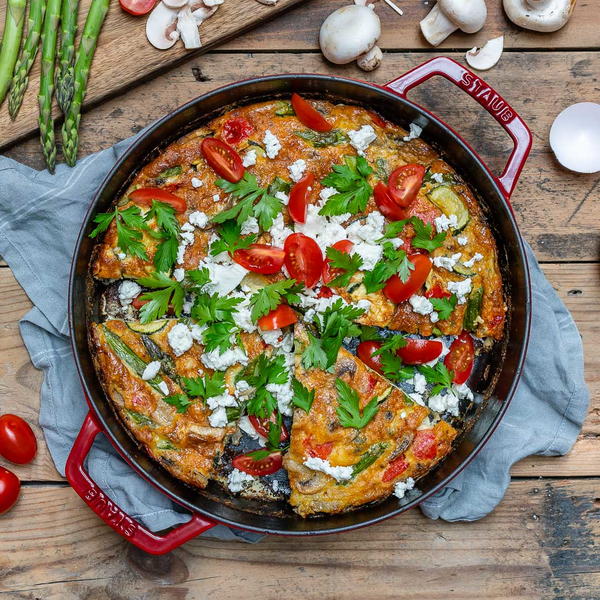 Easy Vegetable Frittata Recipe
"How to make an easy vegetable frittata recipe in just 30 minutes. This is a perfect breakfast to feed a hungry mob. 1. Use a well-seasoned cast iron skillet. To make this easy vegetable frittata recipe, you need to sauté the veggies on the stove first, then bake everything in the oven. And the best dish for making it is an ovenproof cast iron pan or skillet because you can cook with it on the stove and in the oven too. So you won't have to sauté the veggies in one pan and then change this with another for the oven. Also, a well-seasoned skillet prevents the ingredients from sticking and cooks them evenly because of the way it distributes heat. A stainless steel skillet can do the job too, but it requires extra oil or butter to keep the ingredients from sticking. It's worth noting here that cast iron skillets retain heat very well, so your vegetable frittata will keep cooking even after you remove it from the oven. So it's best to keep an eye on it and take it out a minute or two before it finishes cooking. 2. This easy vegetable frittata recipe is versatile. You probably know by now that I like flexible recipes because tastes are very different when it comes to food. Hence, I always try to give you options to adjust my recipes according to your taste. I made this healthy vegetable frittata with asparagus, zucchini and mushrooms, and it came out crazy delish. But if you don't like some or even any of them, you can just replace them with your favorites. You can use any vegetables you have in the fridge, fresh or leftovers. If you make it with leftover veggies, you just have to heat them before adding the eggs in. If you make the vegetable frittata from scratch with fresh veggies, then you need to chop them into bite-sized pieces and saute them before baking everything in the oven. And here are a few more veggies that you can add in: onion, corn, spinach, cherry tomatoes, frozen peas, broccoli, potatoes etc. 3. Which kind of cheese goes with vegetable frittata. I didn't make it with cheese, I only garnished it with some crumbled feta. But I know some of you like to feel cheese in every bite so, heck, why not?! For a 12 egg vegetable frittata, you can add one cup of cheese. This can be of any kind you prefer, like cheddar (shredded), crumbled blue cheese, Gruyère, Parmesan, fontina and even Pecorino Romano. When you pick the cheese for the vegetable frittata you need to keep in mind that each kind has different features. Some are meltier, some are more salty, while others are nutty. So you need to think well about which one you prefer with eggs and veggies. 4. Use any kind of dairy You can make this easy vegetable frittata with any kind of dairy, like milk, yogurt or even cream. This is an essential ingredient because it gives that fluffy, creamy texture."
Serves5 Servings
Ingredients
1 zucchini, chopped
1 red bell pepper, diced
8 spears asparagus, chopped
1 cup sliced mushrooms
2 garlic cloves, minced or pressed
1 tablespoon olive oil
8 eggs
1 cup buttermilk
1 teaspoon sea salt, or to taste
1 teaspoon fresh ground black pepper, or to your taste
Preheat the oven to 180C/350F.

Heat oil in a large ovenproof skillet over medium heat.

Add in zucchini, bell pepper, asparagus, mushrooms, garlic and sauté until softened, about 5-6 minutes.

Meanwhile, in a large bowl, whisk the eggs with buttermilk, salt, and pepper.

Arrange vegetables in the skillet evenly, and pour in the egg mixture.

Place the skillet in the oven and bake until the center is just set and golden on top, about 12-15 minutes.
Your Recently Viewed Recipes
Join our community of 5 million cooks!
Get free recipes, exclusive partner offers, and more.
Thank You for Signing Up!
There was an issue signing you up. Please check your email address, and try again.