5 Broccoli Salad Recipes for Summer
Broccoli is one of the healthiest foods you can eat. It obviously falls under the vegetable category, which we need a daily dose of. Sometimes broccoli can be bland, but you just have to spice it up with some ranch dressing or some kind of dip. Or maybe you can even find some broccoli cranberry salad recipes to add some flavor.
Often times veggies are hard for kids to eat, but with broccoli you can have a little fun with. Tell your kids they're eating trees and they can be a giant. I know broccoli and cauliflower salad recipes are one thing kids don't like to eat, but if you make a game out of it you might be surprised how much they can end up eating. Peas are another vegetable that I personally don't like, but maybe if you mix them in with a broccoli and pea pasta salad it won't be so bad. They're tiny little things, so with enough broccoli and pasta you won't even be able to taste them.
This summer is going to be a hot one, so try to keep your ovens off. Make some nice salads with watery lettuce to cool you down. In fact, we have five great broccoli salad recipes that are perfect for summertime. Try them out! And have some fun with it for the kids; see how much broccoli they can really eat, after all, they need it to get strong and healthy.
Table of Contents:
Add Some Broccoli and Peas to a Pasta Salad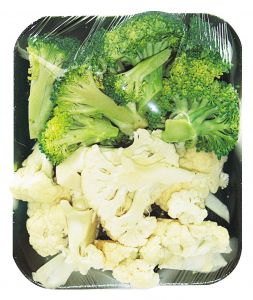 Broccoli and Cauliflower Salad
Broccoli and cauliflower salad recipes are healthy for anyone to eat. This is the perfect salad for your child to eat. Not only can they pretend to be doctors doing surgery and eating the cauliflower brains, but they can also knock down and eat the green broccoli trees.
Melted cheese on warm broccoli is a pretty tasty treat, so why not try it on a cold salad? Just add some shredded cheese to your cold broccoli florets and you have an awesome cheese and broccoli salad.
Fruits and veggies are great snacks during those long work days, but have you ever tried putting them together for a fruit broccoli salad. In five easy steps you can have a lunch ready to serve.
Broccoli Salad with Cranberry Pine Nuts
Sometimes broccoli can be very bland and you might not have dressing around to dip it in or pour on the salad. In any case, you should add some cranberries to add some flavor and dressing. Try some broccoli cranberry salad recipes, cranberry pine nuts just might be the way to go.
Add Some Broccoli and Peas to a Pasta Salad:
Broccoli, Tomato and Spinach Pasta Salad
Broccoli, tomatoes and spinach are all healthy vegetables for us, well technically tomatoes are a fruit, but try adding peas to this pasta salad too. You're sure to have a colorful broccoli and pea pasta salad.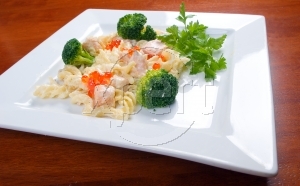 This easy broccoli and macaroni recipe is the perfect vegetable and pasta recipe. If you want to know how to cook a broccoli and macaroni meal that is mouth watering, then this is the recipe for you.

Ingredients
1 pasta, if using spaghetti, break in half
1 head broccoli
1 large can Italian Style Tomatoes
3 peeled and chopped garlic cloves
1 teaspoon basil
2 teaspoon oregano
2 teaspoon parsley
1 teaspoon salt
1 teaspoon pepper
Instructions
This is a two pot meal from my grandparents from Sicily:
1. Cut the broccoli floweretts and some stem into bite size pieces and put into large pot of cold water.

2. Put on stove and bring to boil.

3. While waiting to boil, put the Italian tomatoes and spices in a pot.

4. Cover and cook for 15-20 minutes covered.

5. This is a basic Marinara sauce.

6. You can add any other spices at this time, even red wine.

7. When the broccoli and water starts to boil, pour the pound of macaroni and cook until desired tenderness.

8. When macaroni is done, pour out 1/2 the water and add the Marinara sauce.

9. If any is left over, refrigerate.

10. The next day, you may need to add water since the macaroni will absorb the water.

Your Recently Viewed Recipes
Join our community of 5 million cooks!
Get free recipes, exclusive partner offers, and more.
Thank You for Signing Up!
There was an issue signing you up. Please check your email address, and try again.