Herb Crusted Rack of Lamb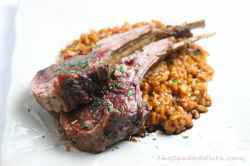 Make up this Herb Crusted Rack of Lamb for Valentine's Day, or another special night with your significant other and you'll be guaranteed to hear praises. This delectable and eye-catching dish is a one of a kind among rack of lamb recipes.
Ingredients
For Wine Reduction Sauce:
1 cup port wine
1 cup veal broth
For Lamb Marinade:
3 sprigs of thyme
1 sprig of rosemary
3 sage leaves
1 teaspoon oregano
2 tablespoons parsley
2 garlic cloves
2 tablespoons Dijon mustard
2 tablespoons olive oil
1 teaspoon salt
pepper to taste
1

1

/

2

pound Australian rack of lamb (or any 1.5 pound rack you can find)
Instructions
For Marinade:
The day before you plan to cook this, you need to make the marinade to rub on the lamb and refrigerate for a day.

To begin chop up the sprigs of thyme, sprig of rosemary, sage leaves, oregano and parsley, and then throw it in a mortar and pestle.

Add to that the garlic cloves, Dijon mustard, olive oil and salt. Crush and mix everything together until it forms a paste.

Before applying the paste to the lamb, first season with salt and pepper.

Then rub the entire rack of lamb with the herb paste and refrigerate at least overnight (or a full day for best result).

To Cook Lamb:
Preheat oven to 400 degress F.

When it's ready to be cooked, get the pan extremely hot and sear each side of the rack of lamb for 10 minutes.

Pop that into the oven and bake at 400 degrees F for 15 minutes for medium rare. Leave it in longer if you want the meat to be less pink.

Make sure you let the meat rest for 5-10 minutes after you take it out before you cut into it.

For Wine Reduction Sauce:
Add port wine and veal broth to medium size skillet or small pot.

Crank up the heat to high and bring to boil. Reduce the sauce down letting boil.

Keep reducing until it has the right consistency to drizzle over the lamb.
Your Recently Viewed Recipes