Easy Potluck Recipes: 21 Pasta Casserole Recipes Free eCookbook
Easy Potluck Recipes: 21 Pasta Casserole Recipes
Free eCookbook
These pasta casseroles are sure to make you the most popular cook at the party!
When it comes to east potluck recipes, a hot, cheesy baked pasta dish is always a good idea. Almost everyone loves pasta, especially when it's mixed with other delicious ingredients and baked into a comforting casserole. In this collection of Easy Potluck Recipes 21 Pasta Casserole Recipes, we've included chicken pasta casserole recipes, pasta bake recipes with beef, and more! They're all super easy to make, budget-friendly, and are sure to earn praises.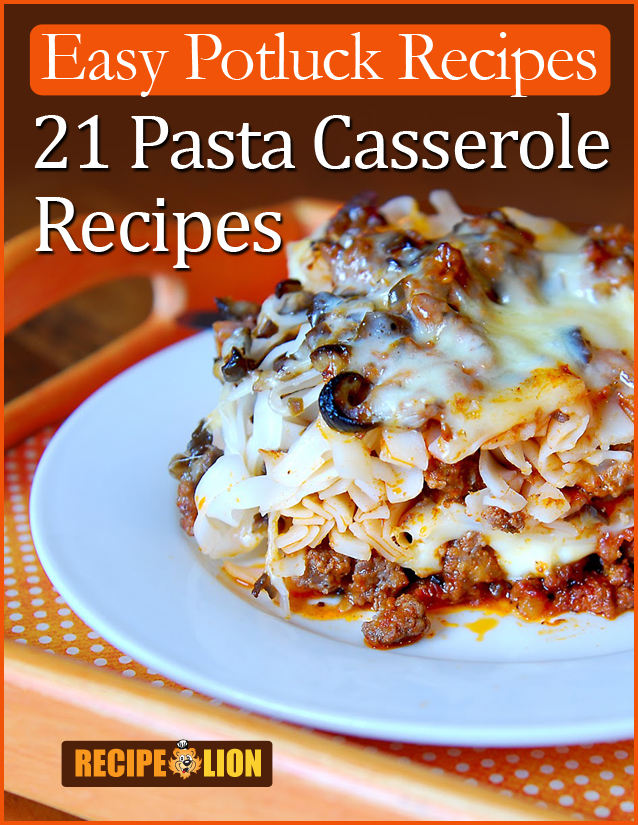 Easy Potluck Recipes: Table of Contents

Note From The Editor
Dear Cooking Enthusiast:

Going somewhere? Bring along one of these deliciously cheesy pasta casseroles! When it comes to easy potluck recipes, you simply can't go wrong with a comforting casserole filled with pasta, meat and gooey cheese. Pasta is just one of those foods most everyone loves, and baking it into a casserole makes it easily transportable and perfect for sharing. These recipes are as easy as boil pasta, stir in add-ins, sprinkle cheese, and bake. You can easily double or triple these recipes, based on how many people you're feeding, without adding much extra effort.

One thing is for sure: with any of these amazing baked pasta dishes in tow, you're sure to become the most popular cook at the potluck. Whether you choose a chicken pasta casserole recipe, baked pasta recipe with beef, or another classic pasta bake, you definitely won't be taking home leftovers. There's something in this list of easy potluck recipes for everyone's taste, and each one is dangerously yummy. From traditional creamy baked spaghetti, to Chicken Alfredo Casserole, to wacky Baked Mexican Stuffed Shells, the possibilities here are endless.

We couldn't dream up a better dish to bring to a potluck than a comforting pasta casserole. Each one of these recipes is super simple and can be prepared ahead of time and refrigerated, so you can simply pop it in the oven before heading out. Not only that, but these pasta casserole recipes are budget-friendly and make it easy to feed a crowd!
Happy Cooking!
Sincerely,


Editor of RecipeLion.com

What's Inside This Free eCookbook
Pasta Bake Recipes with Beef
Beefy Sour Cream Noodle Bake (pg. 7) - With ingredients like ground beef, cheese, sour cream and egg noodles, you know this pasta casserole has to be creamy and delicious.

Baked Mexican Stuffed Shells (pg. 11) - This isn't any old run-of-the-mill pasta casserole. It's all the flavors of enchiladas in an easy stuffed shells casserole!

8-Layer Pasta Bake (pg. 14) - This pasta bake recipe has 8 layers to love: sour cream, cream cheese and ground beef, to name a few. You most likely won't be taking home leftovers.

Loaded Cheesy Meaty Casserole (pg. 16) - If it's cheesy and meaty, it's sure to be a hit at the potluck. Who could resist layers of cheese, meat, more cheese, and noodles?

Chicken Pasta Casserole Recipes
Make-Ahead Chicken Spaghetti Casserole (pg. 17) - This make-ahead casserole recipe is packed with colorful ingredients that makes it pleasing to the eye and palate!

Chicken Alfredo Casserole (pg. 22) - Everyone loves creamy, rich chicken Alfredo, and making it into a pasta bake adds one more unforgettable flavor element.

Simple Cordon Bleu Pasta Bake (pg. 26) - Bacon, ham and cheese? Yes please! This has all the flavors of classic chicken cordon bleu in a crowd-pleasing pasta casserole.

Loaded Potluck Pasta Bake (pg. 28) - With ingredients like cheese, chicken, mushrooms, roasted red peppers, and pasta, what's not to love? This one is loaded with goodness.
More Baked Pasta Recipes
Fantastic Lazy Day Lasagna (pg. 31) - Lasagna is one of the most popular easy potluck recipes, but all that layering can be time consuming. This is the shortcut version!


4-Ingredient Tortellini Bake (pg. 34) - Pasta casserole recipes with just 4 ingredients are the best, and this one couldn't be easier! Multiply the recipe according to how many people you're serving.


Ultimate Baked Mac and Cheese (pg. 35) - Macaroni and cheese is the ultimate comfort food, so guests will be piling their plates high with this one.


Sunday Night Noodle Bake (pg. 42) - This pasta casserole recipe is perfect for a church supper or evening potluck. It's comforting and uber delicious.

Ingredients You'll Need
Here are some of the commonly used ingredients you'll need for the easy dinner ideas in this eCookbook. If you have any of these ingredients in stock, you're almost ready to get cooking!
Penne pasta
Spaghetti
Pasta sauce
Ground beef
Chicken
Shredded mozzarella cheese
Shredded cheddar cheese
Sour cream
Need Help Downloading This Free eCookbook?
RecipeLion eCookbooks are free, downloadable recipe collections organized around a theme, such as dinner casserole recipes, holiday baking recipes, vegetable side dish recipes, restaurant copycat recipes, and more. These eCookbooks are PDF documents that can be downloaded off our website, saved to your computer, and/or printed out for easy reference while cooking and baking.
If you are having trouble downloading our free eCookbooks, visit our FAQ page here: How to Download Our eCookbooks?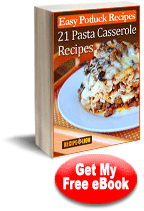 Download your free copy of the Easy Potluck Recipes: 21 Pasta Casserole Recipes free eCookbook today!
Don't Miss Our Other Free eCookbooks!
If you enjoyed this free eCookbook, you won't want to miss any of our other downloadable recipe collections. You can browse our entire library of free eCoobooks here. We also have a collection of holiday-specific eCookbooks available for free download, so don't forget to check those out too!

Sign Up For Our Free Newsletter
With your free copy of Easy Potluck Recipes: 21 Pasta Casserole Recipes (as with all of our free downloadable eCookbooks) you can also subscribe to our free Quick and Easy Recipes newsletter to get free recipes delivered to your email inbox every week. Become a part of the RecipeLion community! By subscribing you will receive:
Six weekly emails with free recipes, tips, collection pages, videos and more + a weekly wrap-up.
Chances to win cookbooks and food products from our weekly giveaways and contests.
New recipes and eCookbooks made available to you throughout the year.
Access to our recipe large collection full of over 40,000 recipes, including budget friendly and quick and easy recipes
The opportunity to share ideas and help others in the recipe and cooking community.

Your Recently Viewed Recipes
Join our community of 5 million cooks!
Get free recipes, exclusive partner offers, and more.
Thank You for Signing Up!
There was an issue signing you up. Please check your email address, and try again.