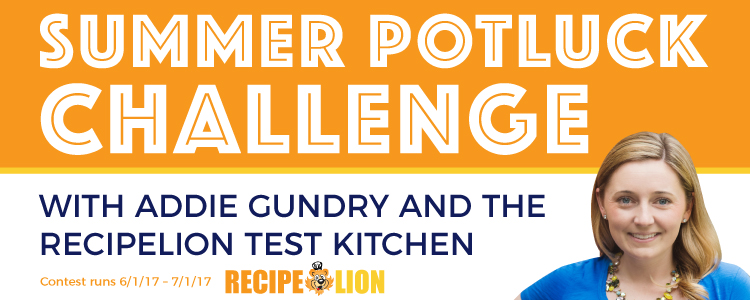 The RecipeLion Test Kitchen is on a search for the ultimate summer potluck recipe!
To enter, you must create an original summer appetizer, side dish, or dessert recipe and submit it to us below during the month of June. 10 finalists will be chosen by our RecipeLion panel of judges, including our in-house celebrity chef Addie Gundry.
Addie is the chef and author of RecipeLion's 103 Cookbook series and is also a contestant on season 13 of The Next Food Network Star, premiering Sunday, June 4th on The Food Network. She has worked alongside Martha Stewart, Thomas Kellar, Bobby Flay, and Giada De Laurentiis. If you've always wanted to cook with a celebrity chef, now is your chance!

Qualifying recipes must adhere to the following guidelines:
No more than 10 ingredients
All ingredients must be easy-to-find and available at local supermarkets across the country
Instructions should be clearly, simply written and manageable for the average home ​cook
Addie likes quick and easy, and so do our readers. Make it simple!

Celebrity Chef Addie Gundry and the RecipeLion Test Kitchen will select 10 finalists based on the following criteria:
• Creativity and originality
• Ease of preparation
• Taste

Finalists will be announced and contacted on July 17, 2017. All submissions will be posted in full on RecipeLion.com and our Test Kitchen will personally make and photograph the top 10 finalist recipes in our test kitchen.
Each top 10 finalist will receive:
Exclusive feature in our upcoming Summer Potluck Recipes compilation eCookbook on RecipeLion.com
A signed copy of our newest printed cookbook, on sale at QVC, Amazon and Barnes & Noble July 4, 2017
Plus, all finalists' recipes will be posted on RecipeLion.com – and we'll be promoting them in our daily newsletter, as well as on our blog and social media.


We will host a voting page, with a short bio and link to the recipe for each of the ten finalists. You'll want to round up your family, friends, and readers for their support! The voting period will run from July 17 to July 31, 2017.

The grand prize winner will receive an all expenses-paid trip to the RecipeLion test kitchen in Chicago, where he or she will spend the day in the kitchen with our in-house celebrity chef Addie Gundry.
But that's not all…the winner will also be featured on the front page of our Summer Potluck eCookbook, and and maybe even have the opportunity to be featured in an upcoming printed cookbook with Addie Gundry!*
The winner will be announced and contacted August 1, 2017.
*subject to future book titles and St. Martin's Press/Macmillan approval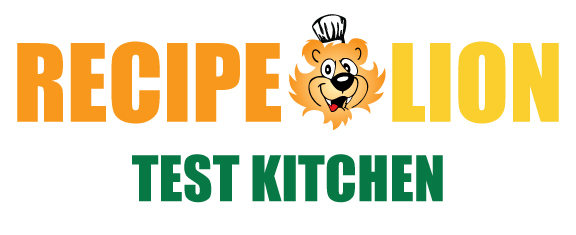 About Addie Gundry:
Addie Gundry received her master's degree in culinary arts at Auguste Escoffier in Avignon, France. She has worked for Christian Etienne, Daniel Boulud, Thomas Keller, and Martha Stewart on management, restaurant openings, brand development, editorial, marketing, and sales. In 2015, she won Cutthroat Kitchen on Food Network. As the executive producer for RecipeLion, Addie creates culinary content for multiple Web platforms and communities.
She is the chef and author of RecipeLion's 103 Cookbook series and has her own cooking and entertaining blog, Easy Elegant Entertaining. She is also a contestant on season 13 of The Next Food Network Star, premiering Sunday, June 4th on The Food Network.
She and her husband, Alex, live in Lake Forest, IL with their puppy, Paisley. They're expecting a little boy this September. They love hanging out in the backyard, cocktail walks around the neighborhood, and spending time with friends and family.

Your recipe has been submitted.
Thank you for entering the 2017 Summer Potluck Challenge. Good luck!
Would you like to submit another ?