Air Fryer French Fries
Get crispy, healthy French fry perfection in almost no time.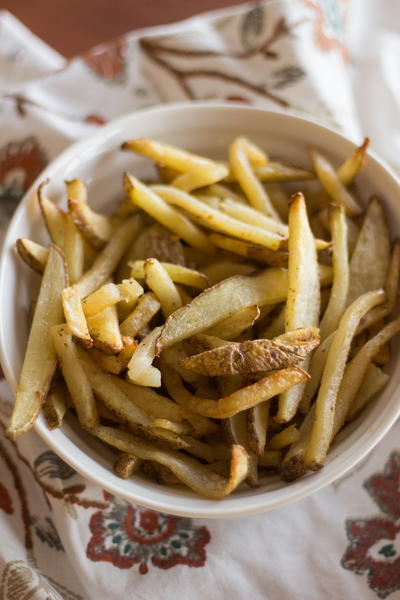 Air Fryer French Fries
You've got to give these air fryer French fries a try! If you're someone who loves crispy, crunchy French fries, then this recipe is for you. You'll especially love it if you're not crazy about all the added fat and calories in regular fries. With an air fryer, you can get that crispy texture that you love without all the guilt.

What is an air fryer? An air fryer is a small appliance that cooks food by rapidly circulating hot air. Because of this, you only need a small amount of oil to cook your food (compared with a deep fat fryer). Air fryers also cook food more quickly than most conventional ovens, making them a great time saver.

Let's talk about these french fries! Making them really couldn't be any simpler. All you have to do is cut up a few potatoes, season with your favorite spices, and pop them in the air fryer for 20 minutes. We love paprika and garlic powder, but feel free to add some other seasonings you love (onion powder or cumin would be fantastic!). The finished fries are crispy, flavorful, and totally guilt free. You've got to make these this week.
Serves4
Ingredients
3 medium russet potatoes
1

1

/

2

tablespoon vegetable oil

1

/

4

teaspoon garlic powder

1

/

2

teaspoon paprika

1

/

2

teaspoon salt

1

/

2

teaspoon pepper
Air Fryer French Fries Recipe
Wash your potatoes until they're clean (give them a good scrub!). Peel if desired, but it's not necessary.

Slice your potatoes into fries, trying to keep them uniform in size and shape.

In a bowl, toss the fries with your cooking oil and seasoning. Then transfer the fries to the basket of your air fryer.

Cook the fries at 400 degrees for about 20 minutes in your air fryer. Stir a few times to ensure that they cook evenly.

Remove fries from the air fryer and enjoy!
Your Recently Viewed Recipes