How to Make 4 Chicken Wing Dipping Sauces
These chicken wing dipping sauces are perfect for all your chicken wing recipes (and more!)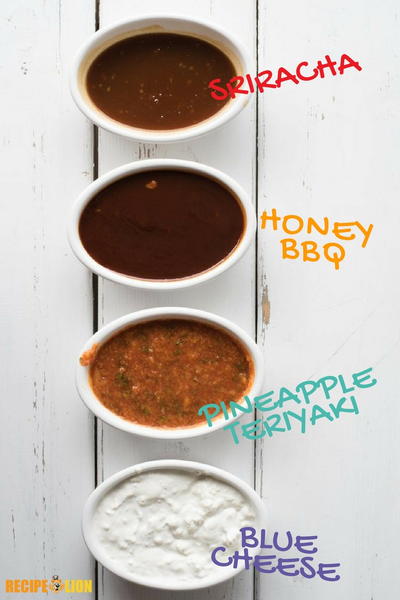 On game day, appetizers are a must! Chicken wings are par for the course, but what about dipping sauces? They're almost as crucial as the wings themselves.

Everyone has a little different taste, which is why we created 4 great chicken wing dipping sauces to satisfy everyone at your game day party.

Whether you're strictly a blue cheese person or occasionally dabble in honey BBQ, there is truly something for every taste in these tasty sauces. We also have an easy homemade buffalo sauce not included on this page that you may want to try out too!

Now you can make wings sans sauce and let your guests dip for themselves. These recipes are super easy and quick to whip up and will make your party complete.
Preparation Time - TextBlue Cheese: 5 minutes, Sriracha: 5 minutes, Pineapple-Teriyaki: 25 minutes, Honey Barbecue: 10 minutes
Ingredients
Blue Cheese:

1

/

2

can sour cream

1

/

4

cup mayonnaise
1 clove garlic, minced
1 tablespoon lemon juice
2 tablespoons buttermilk
5 ounces blue cheese, crumbled
Pinch of kosher salt
Pinch of black pepper
Sriracha:

3

/

4

cup Sriracha chile sauce

1

/

4

cup honey
12 tablespoons unsalted butter, melted

1

/

2

cup chopped cilantro
Finely grated zest and juice of 3 limes
Pineapple-Teriyaki:

1

/

4

cup unsalted butter
4 cloves garlic, finely minced
1 teaspoon minced fresh ginger

1

/

2

cup soy sauce

1

/

2

cup mirin

3

/

4

cup pineapple juice

1

/

4

cup rice vinegar
2 tablespoons brown sugar
2 tablespoons water
1 tablespoon cornstarch
Honey Barbecue:
1 cup barbecue sauce

1

/

2

cup honey
2 tablespoons ketchup
2 tablespoons Sriracha sauce
4 tablespoons unsalted butter
1 clove minced garlic
Blue Cheese Sauce:
In a mixing bowl combine the sour cream, mayonnaise, garlic, lemon juice and buttermilk. Whisk until well combined. 

Stir in the blue cheese and season with salt and pepper. Chill until ready to serve.
Sriracha Sauce:
In a mixing bowl combine the Sriracha, honey, melted butter, cilantro, lime zest and juice.
 

Whisk until well combined.
Pineapple-Teriyaki Sauce:
In a saucepan over medium heat melt the butter. Stir in the garlic and ginger and cook for 1-2 minutes. 

Stir in the soy sauce, mirin, pineapple juice, rice vinegar and brown sugar. Cook to a boil then simmer for about 3 minutes.

Whisk together the water and cornstarch then add to the other sauce ingredients in the saucepan and simmer until thickened, about 8-10 minutes.
Honey Barbecue Sauce:
In a saucepan combine the barbecue sauce, honey, ketchup, Sriracha, butter, and garlic. Simmer over low heat for about 5 minutes.
 
Your Recently Viewed Recipes