Cabbage Rolls 'Sarmale' Stuffed with Ground Beef Veggies and Rice
By:
Ramonas Cuisine from ramonascuisine.com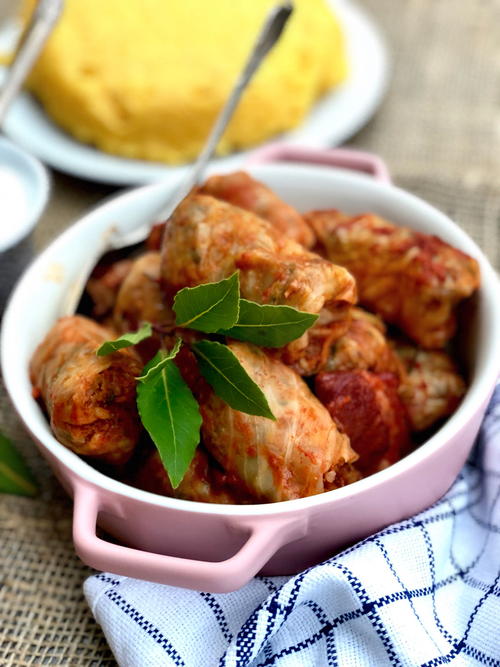 Cabbage Rolls Sarmale Stuffed with Ground Beef Veggies and Rice
"Sarmale is a dish that I ate and enjoyed almost all my life since I was a tiny kid especially around festive holiday times when everyone was making them and the whole town was smelling yummy of these delicious cabbage rolls, especially at Easter and Christmas time. They are such a Romanian traditional dish that Prince Charles now greatly enjoys along with the traditional chicken soup apparently one of his top faves every time he's over there."
NotesPreparation time
This really depends on how many times you've made cabbage rolls before- it can take from 20 min to 40 min to get them in the pot. It really depends on what leaves you are using (fresh or sour) and the level of expertise on rolling.
Salt amount
The amount of salt you may use depends very much on whether you use fresh cabbage or sour one. For fresh cabbage you will use more salt but if you are using sour one you will need to be careful as this is already quite salty unless you left it in a pool of water for 1-3 hours. I'm not in control with the salt. Also remember that bacon also contains salt. You can certainly add more salt when serving if needed.
Boiling or cooking time
It all depends on how you choose to cook them, if you choose to cook them in the oven cooking time will have to be 2-3 hours, if you cook them in an instant pot or pressure cooker (like I do) the time will be less than 1 hour and if you cook them on the stove the cooking time will also be around 2-3 hours- get them to boiling point and then reduce the fire to medium or even low.
The cabbage rolls or sarmale only need to be cooked till they become fork-tender and that means they are done! - there is absolutely no point in overcooking them. It is sufficient for you to cook them once a twice and understand exactly how long they need cooking depending on how you choose to cook. You will then become an expert!
Cabbage type and preparation
The cabbage has to be a savoy or the Turkish (flatter looking) ones and not the supermarket dense and heavy super round one - it is important to choose the right type if you want to have a nice looking and to successfully manage to roll those and not having to pin them with toothpicks or wooden skewers. I'm mentioning this as I have seen this done a few times in my life ?. Totally unnecessary if you choose the right cabbage.
If you choose to use fresh cabbage there will be a little preparation required by having to blanch the cabbage. To do this one large cabbage should be sufficient for this recipe. The cabbage needs to be cored first, and then added into a large pot with salty boiling water for about 5-6 min -remove and place into cold water.
The pickled or sour cabbage is a lot easier (tastier too if you like) and can now be widely found in any Eastern European or Turkish grocery stores here in the UK.
Freezing the cabbage ...
Another alternative to softening the cabbage leaves is to freeze it for a day or two, remove it from the freezer and thaw it at room temperature. Once this has thawed completely the leaves should be nice and soft.
The rice
The rice does not have to be pre-cooked but just shallowly or briefly cooked with the veggies for no longer than 5 min. That is all, the rest will be looked after later.

Serves6 People
Ingredients
1 savoy cabbage head fresh or soured*
300 g minced lean beef
300 g minced pork
200 g smoked bacon diced
5-6 smoked pork ribs
1 courgette
1/2 small leek
1 carrot medium
2 onions medium
1 tsp thyme
Instruction
I used sour cabbage just like I did, do the same, core it (if it still has the core) and place it in a big pot/dish in lukewarm water (3-4 l) ideally for at least 1 hour ahead since this is very salty so it needs some time to desalt. Don't worry if you cannot leave it for so long - leave it the longest you can. Just open it nicely so that all leaves are individually loose in the water. See recipe notes about the cabbage types*

I always prepare the vegetable and rice mixture immediately after resoving the cabbage as this needs some time to cool. So, peel and wash the carrot and just wash the courgette and then grate both on the bigger whole grater.

Finely chop the onions and the leek. Place them in a pan over medium heat, add some salt and soften with a dash of water or oil if you wish. I don't use any oil since the meat has all that's needed and plenty more to add to the dish overall but feel free to use if you wish. ☺ Cook for 3 minutes covered until onions become translucent.

Add the rice, cook for 1 min and then immediately add the grated courgette and the carrot, half of the thyme and two bay leaves that you can break into two. Try not breaking them into smaller pieces as they will need to be picked/fished out at the end of the cooking, before mixing with the meat. Cook for a further 3 mins.

Add 1 can of chopped tomato or tomato juice (even a cream of tomato soup if you'd like) and allow this to start boiling. Turn the heat off and set aside for a little while till slightly cool. ❗Tip: My mum told me to never mix the hot mixture with the mince as the meat will get spoiled. I'm stuck with this idea in my head- if you know otherwise.... just do as you know ☺

Cut each leaf in two by the thick vein found in the middle of each leaf, cut out the remaining thick vein. Easier to handle.

In a large bowl add the mince meats, the smoked bacon, very little salt, pepper, chopped parsley, dill and the rice n' vegetable mixture once this has cooled. Mix well until it becomes homogeneous.

Let's get rolling these beauties. Place about 1 1/2 tbsp of meat mixture on a taylored cabbage leaf. Fold in the sides and roll. Tuck in the side ends. Repeat until you finished the mixture.

Place all rolled up cabbage rolls into the pot or dish you desire to cook them in. I use this Insta pot. Place some herbs like thyme, lovage and couple of broken bay leaves in between along with the smoked pork or beef ribs.

Set up the pot manually for 30-40 min and set the pressure knob on closed so that the pressure will be contained rather than released. They're ready when the pressure cooker says it's finished. I occasionally cook them further with taking the lid off and set to cook for a further 15 -20 min just to reduce the juice if too much or too watery. This operation has to be done super carefully and you should only attempt to open the lid once the pressure inside the cooker has gone so needs to be left for a while or the pressure released manually by opening the top knob until no more steam comes out so all that whistling ended.

Serve with a dollop of creme fraiche or double cream. I personally like the sour cream or the creme fraiche (smantana) as I feel that goes very well with it rather than the sweet double or single cream. Of course a polenta alongside will be even better but I leave that to your personal preferences.
Free recipes, giveaways, exclusive partner offers, and more straight to your inbox!
Tags / Related Topics
Your Recently Viewed Recipes
Images from other cooks


Report Inappropriate Comment
Are you sure you would like to report this comment? It will be flagged for our moderators to take action.
Thank you for taking the time to improve the content on our site.

Something worth saving?
SAVE your favorite recipes
ADD personal notes
GET fast cooking tips