Easy Rainbow Pasta
Have fun with the kids while making this cool and vibrant rainbow pasta!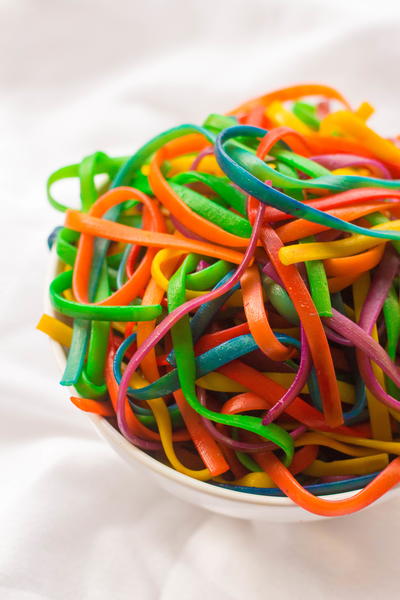 Easy Rainbow Pasta
Perfect for holidays and other special occasions, this rainbow pasta recipe is sure to be a hit with your family. Little ones will love dying pasta noodles all the colors of the rainbow, and they'll especially love getting to eat them afterward.

Make Halloween super scary with blood-red spaghetti, or make St. Patrick's Day one to remember with beautiful bright green shells. With this easy recipe, you can literally eat the rainbow!

We'll walk to you through the process step by step, so your noodles turn out just as fun and crazy as ours did. We hope you enjoy this interactive eating experience. 
Yields4 servings

Ingredients
1 pound dry fettucine, or other pasta
Food coloring (rainbow colors)
Instructions
Cook pasta al dente according to package instructions.

While pasta is cooking, combine about 2 tablespoons of water and 20 drops of food coloring in a large zip-top plastic bag. 

Repeat with however many additional colors you would like.

When pasta is finished cooking, transfer pasta to a large colander to drain. Rinse it in cold water.

Transfer the pasta in even portions to the prepared zip-top bags and seal. Wear gloves, and use your hands to carefully combine the pasta and food coloring.

Let each bag sit for at least 1 minute to soak in the bright colors!

Then, one color at a time, transfer a bag of pasta back to the colander and rinse with cold water to remove any extra food coloring. 

Then transfer the pasta back to your original pot. 

Repeat with the remaining colors of pasta. 

Toss all of the colors of pasta together to combine the colors.
Your Recently Viewed Recipes