29 Tasty, Easy Breakfast Recipes eCookbook
Bonus: Get our newsletter & special offers for free. We will not share or sell your email address. View our Privacy Policy

How to Whip Up the Fluffiest Omelet
By: Julyen Norman, The Stonebow Inn in Grantsville, MD
Innkeeper Julyen Norman from The Stonebow Inn in Grantsville, Maryland has a fail-proof way to whip up the fluffiest omelet. It's all about technique. Julyen writes:
Here is the method I learned (from Jacques Pepin no less), modified from my own experience. It will, with practice, give you a light tender omelet almost every time. First, though, a word about organization. Your cooking experience will be a lot easier if you set up your mis-en-place (as the French say) before you start preparing ingredients. My typical work station for omelets, for instance, comprises two small stainless steel mixing bowls (as I usually make two omelets at once), a small cup measure containing water, a bottle of hot sauce, canola oil spray, a carton of eggs (naturally), a chopping board, whisk, medium spatula, small glass bowl, butter, grated cheese (either in a bowl or a plastic zip-top bag), salt and pepper and a plastic container with my chosen filling in it. In this case, it's the mushroom-asparagus mix described below.


My microwave sits on the counter next to the stove and I have my non-stick 8" skillets ready to preheat on the gas burners (I have to use propane gas up here in the rural regions). If you have an omelet pan, well, good for you, I just use regular small skillets myself. Choose ones with a heavy base, the cheap thin ones heat too fast and burn the eggs too easily. NEVER put them in the dishwasher!


I always prepare my fillings the night before or well in advance of making the actual omelets; same for grating cheeses and finely chopping parsley (for garnish).

Mushroom-Asparagus Omelet
Filling: chopped mushrooms (I use a mix of thinly sliced Shiitakes, chopped baby Portobellos and chopped white mushrooms); fresh asparagus tips, washed well; grated Fontina or Fontinella cheese (not Cheddar, see notes below).
Melt 2 tablespoons of butter in a large skillet sprayed with canola oil and add the mushrooms; cook these well, until all the moisture has evaporated. This should be a fairly dry mix. Store or set aside.
TIP: I chop a large quantity of mushrooms and bag them in zip-top freezer bags and store them in the freezer compartment. Then they are available anytime. When you cook the frozen mushrooms (no need to defrost them first) they will render much more liquid. If there is a lot of liquid, drag the mushrooms to one side of the skillet, tip the skillet away from you so the liquid gathers in the far side, and using a pair of tongs to hold it, place a paper towel in the pan to soak up the liquid. Drop this carefully into the trash bin. Continue cooking until the remaining liquid evaporates.
Prepare the asparagus tips by snapping off the base of each stalk; this will naturally remove the tougher base of each piece. Wash thoroughly (I chop the asparagus into half-inch pieces first and then rinse in a colander). Bring water to a boil in a saucepan fitted with a steamer and cook the asparagus until crisp-tender (or however you like it). Drain, rinse with cold water and reserve.
Making the Omelets
I use 2 eggs per omelet. If you prefer a larger dish, use three. Crack the eggs into a small bowl, add a splash of water and a splash of hot sauce (not too much or your eggs will have a spongy texture that looks weird). Whisk lightly. You are not trying to beat air into the eggs here.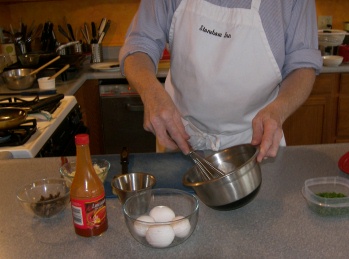 Spray the skillet with oil, and add a piece of butter. The oil is to help release, the butter for mouth-feel. Preheat the skillet over a medium heat until the butter melts and the foam begins to die down. Put some of the mushrooms and asparagus in a small bowl and microwave for 15-20 seconds if they are cold; the idea is to have the filling at the same temperature as the eggs you are going to put them in. Pour the eggs into the skillet, there should be a very faint sizzle.
Now for the important part: Use your spatula to stir and lift the eggs as though you are making scrambled eggs. The omelet should be basically scrambled eggs enclosed in a thin envelope of cooked egg.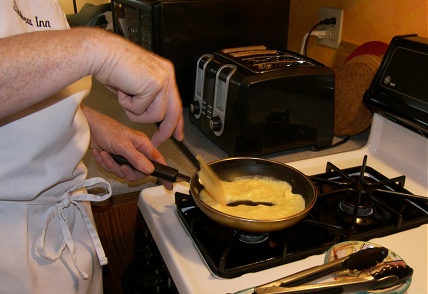 When the eggs are almost set, tip the skillet to run the uncooked egg mixture around the edges of the pan, place your mushroom-asparagus filling on one side of the omelet — do not overfill it or it will be difficult to fold —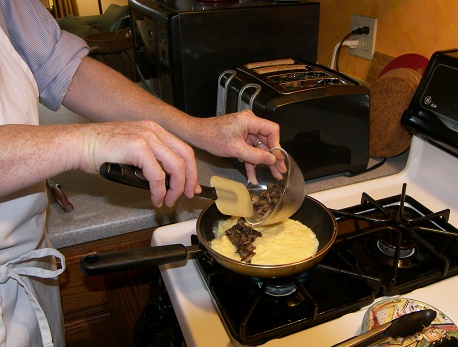 and top with a little of the grated cheese.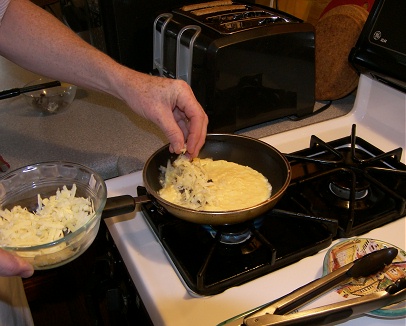 Use your spatula to carefully flip/fold the other half of the omelet over the top of the filling. Turn off the heat and let it sit for a few seconds while you get your plate.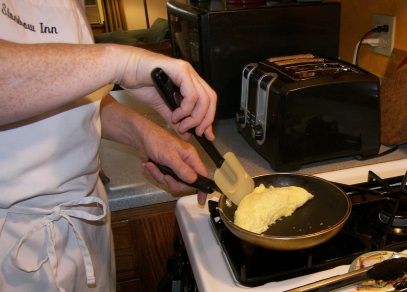 Slide the omelet onto a pre-warmed plate (if it is sticking ,use the spatula to ease it loose).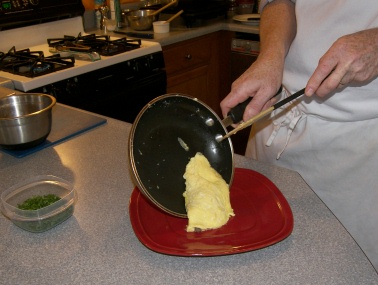 Sprinkle with finely chopped parsley and serve with toast and bacon or whatever you like.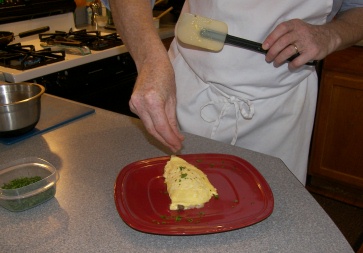 Troubleshooting

Q: My omelet has brown speckles on the outside and is tough, what happened?
A: The pan was too hot.
Q: The cheese filling is running out of the omelet, what happened?
A: Either too much cheese or the wrong kind of cheese. Cheddar for instance does not melt well, but separates. I only use it in baked egg dishes.
Q: My omelet is kind of orangy and has a spongy texture, what happened?
A: Too much hot sauce in the eggs. If you like it spicy, add more hot sauce after serving the omelet.
Tips courtesy of Julyen Norman from The Stonebow Inn in Grantsville, Maryland and BnBFinder.

Your Recently Viewed Recipes
Images from other cooks


Report Inappropriate Comment
Are you sure you would like to report this comment? It will be flagged for our moderators to take action.
Thank you for taking the time to improve the content on our site.
Recipe of the Day
Paula Deen-Inspired Corn Casserole is a terrific holiday side dish. Corn lovers will especially love this recipe because it uses whole… See more
Get More Recipes

Something worth saving?
SAVE your favorite recipes
ADD personal notes
GET fast cooking tips