Cinnamon Pumpkin Doughnut Muffins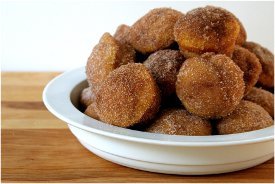 These delicious little muffins take on the taste of a doughnut when dunked in butter and rolled in cinnamon sugar. Baked donut recipes never looked so good. These Cinnamon Pumpkin Doughnut Muffins are sure to be a hit!
Yields30 mini muffins
Ingredients
1

/

2

cup unsalted butter, softened

1

/

2

cup sugar
1 egg
1

1

/

2

cup flour
1

1

/

2

teaspoon baking powder

1

/

2

teaspoon salt

1

/

4

teaspoon cinnamon

1

/

4

teaspoon nutmeg
1 cup canned pumpkin

1

/

2

cup milk
For rolling the muffins in:

1

/

2

cup unsalted butter, melted
1 cup sugar mixed with 2 tablespoons cinnamon
Instructions
Preheat the oven to 350 degrees F. Grease a mini muffin pan.

In a medium sized bowl, whisk together the flour, baking powder, salt, nutmeg, and cinnamon. Set aside.

In a small bowl, mix together the milk and pumpkin. Set aside.

In a large mixing bowl, beat the softened butter and 1/2 cup of sugar together until light and fluffy. Add the egg and continue mixing.

Add the dry ingredients gradually, alternating with the pumpkin/milk mixture.

Fill the prepared muffin cups to about 3/4 full and bake for about 20 minutes.

Cool for a few minutes on a cooling rack. When cool enough to handle, roll in the melted butter and then in the cinnamon/sugar mixture.

Your Recently Viewed Recipes