Wholly Wholesome Baked Goods Review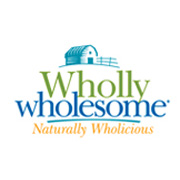 "I baked a key lime pie with the Wholly Wholesome Graham Cracker Pie Crust and it was delicious! The crust is conveniently wrapped and molded, ready for use. I mixed the pie filling ingredients, poured them into the crust, and after 15 minutes in the oven—voila! The perfect pie! The crust has a light, flaky texture, and isn't too sweet—which is great when your pie filling is very sweet. I take comfort that there are no additives or chemicals in this pie crust. It tastes wonderful and truly is wholesome!"
"I really enjoyed this graham cracker pie crust from Wholly Wholesome. I love pie, but always feel guilty eating them because of all the preservatives. It's great to know that I can now enjoy pie without all the preservatives. Wholly Wholesome's Graham Cracker Pie Crust was so tasty, and I love the comfort of knowing it's made with all natural, premium quality ingredients."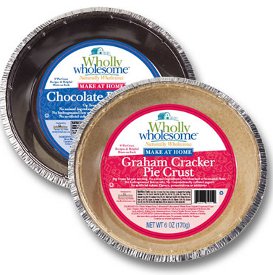 "My mother is famous for her warm and toasty oatmeal raisin cookies. The Wholly Wholesome cookies were just as fantastic (don't tell Mom)! They are not too sweet, filling and a perfect bite size breakfast, snack or dessert. I would love to try more varieties."
"These cookies tasted like classic oatmeal raisin cookies. Some are way too sweet and overpower the taste of the oats and the raisins, but this dough did not. Great cookie, all around."
"I made a pie using the Wholly Wholesome chocolate pie crust and it tasted delicious! The chocolate crust is the perfect base for a variety of pies; mine was a peanut butter pie but I could also imagine using this crust for a cheesecake or a pudding pie. I also enjoyed the fact that the crust was made with all-natural ingredients so I could feel good about serving my family a dessert that's truly 'wholesome.' Next time you're baking a pie, I would highly suggest trying out any of the pre-made dessert crusts from Wholly Wholesome... they're fantastic!"
"I am pretty finicky when it comes to my cookies, and I am pleased to say that Wholly Wholesome Oatmeal Raisin Cookies met my high standards! They have abundant raisins that are plump and juicy, excellent cinnamon flavor, and are not overpoweringly sweet. I can really taste the oats – YUM. I'd have to say these are better than any "fake bake" cookies I've had. My kids, ages 3 ½ years and 6 years, liked them too, even with funny comments:
3 ½-year-old: Mommy, I ate it all!
Mommy: I need to know what you think of it.
3 ½-year-old: One minute [chomping a whole cookie at once], I need something to drink first. Good! Pretty darn. No more answers.
6-year-old: Kind of tastes…the dough kind of tastes like a cookie, the raisins kind of taste like watermelon. That's probably it for me, Mommy.
Mommy: Anything else?
6-year-old: Tastes kind of crunchy."
Your Recently Viewed Recipes
Join our community of 5 million cooks!
Get free recipes, exclusive partner offers, and more.
Thank You for Signing Up!
There was an issue signing you up. Please check your email address, and try again.