Sweet Sheila's Treats Gourmet Popcorn Review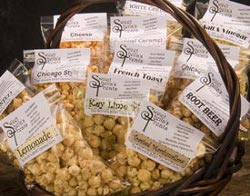 "For those that don't know, Chicago Style caramel corn is a combination of regular caramel corn and cheese popcorn. It may sound unusual, but the combination of sweet and savory is irresistible. I recommend trying to get some caramel and some cheese in every bite. The popcorn itself is air popped, which makes it the perfect vehicle to let the flavorings shine."
"This popcorn is so good and really addictive! The Twisted was very different from most caramel corn and kettle corn I've eaten. It was light and crispy with an intense flavor of butter. I think the butter flavor was more prominent than the caramel. It didn't have the deep, hint of molasses that a lot of caramel corn has.
The Twisted was good, but the Lemonade was amazing! I think the idea of Lemonade flavored popcorn is so innovative! The popcorn had a coating similar to the Twisted popcorn, but with the added flavor of lemon. It was not sour at all, but very sweet -- more like the flavor of lemon zest than lemon juice. I have never eaten anything like this before, and I would definitely eat it again!"
"Sure, you've probably tasted and enjoyed caramel corn before. Most likely, you're familiar with Cracker Jack®, but let me tell you – Sweet Sheila's Treats Twisted Caramel Corn blows it away! Her popcorn has incredible flavor and simply melts in your mouth, and the pretzels have a delicate coating of YUM that keeps you coming back for more. Modestly addictive? TOTALLY addictive!"
"Did you ever enjoy a nice cold lemonade with a little snack? Well, once you've tasted Sweet Sheila's Treats' Lemonade Popcorn, then you've truly had the best of both worlds! She air pops her popcorn, so it's amazingly light and fluffy and simply melts in your mouth, and she is amazingly creative and whips up some terrifically tantalizing combinations: Lemonade Popcorn, Key Lime Pie Popcorn, Toasted Marshmallow Caramel Corn (which is to die for, by the way!), and tons of other great flavors. It really is impossible to eat just one bite!"


"Sweet Sheila's Chicago Style popcorn, a combination of rich, buttery sweet caramel corn and cheese popcorn, has a great crunch and then melts in your mouth. This mix has the perfect blend of sweet and savory. This is one snack you must try! It's great for entertaining or munching on while watching a movie. Sweet cravings are always followed by salty cravings, and vice versa. Solve that food conundrum by eating both at once with this delectable popcorn!"
"The Twisted popcorn from Sweet Sheila's was so good, it's borderline addictive! The caramel corn provides a sumptuous outpouring of flavor and aroma. The popcorn itself is light and airy, and the caramel coating is sweet and buttery. This also comes with pretzels that are coated in the same buttery caramel coating. The saltiness pairs well with the sweetness of the caramel coating, and the pretzel's crunch contrasts well with the airy popcorn. This is definitely a sweet snacking treat that I can get behind."
"This Lemonade popcorn from Sweet Sheila's is an intriguing flavor combination that totally works. The popcorn itself is light and chewy, and therefore works well with a harder candy coating. The flavoring achieves a pleasant balance of sweet and tart, causing this to taste like Lemonheads in popcorn form. This is a fun treat that kids especially will love."
"Sweet Sheila's Treats popcorn is truly amazing! The light feel and buttery taste literally melts in your mouth. You can tell the air popped difference here. Her flavors of popcorn are totally unique, for example the Lemonade. As a huge lemon fan this combination is too good for words! I could eat the Lemonade popcorn all day! She boasts on the bag that the popcorn is modestly addictive, I think that's putting it mild because this has become highly addictive for me with only a few bites. The natural and additive free ingredients no doubt adds to the sweet, lovely flavor. I'm definitely a fan of Sweet Sheila's popcorn. Just call me hooked."
"If you like lemonade and lemon-flavored desserts, you'll love Sweet Sheila's Lemonade-flavored popcorn! With a salty hint and a sweet, lemon finish you'll wonder how you survived all those summers without this bright, tart treat. This crunchy popcorn is a lemon lovers' dream."
"Sweet Sheila's Twisted caramel corn mixed with pretzels is a sweet-glazed mixture of heaven. The popcorn, mixed with sugary pretzels, provides a harmony of salty and sweet flavors that trick your mouth—you almost feel like you're eating funnel cake!"
"Sweet Sheila's Original popcorn is delicate, crunchy and sweet all at the same time. It melts on your tongue with a buttery finish and it's just irresistible! I could eat the whole bag in one sitting!"

To learn more about this gourmet popcorn and how you can win your own variety pack of Sweet Sheila's Treats popcorn, check out the Sweet Sheila's Treats Popcorn Giveaway. It's live until July 3rd, so don't wait!
Your Recently Viewed Recipes
Join our community of 5 million cooks!
Get free recipes, exclusive partner offers, and more.
Thank You for Signing Up!
There was an issue signing you up. Please check your email address, and try again.