Stonyfield Frozen Yogurt Review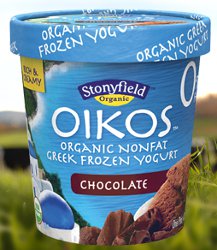 "This Oikos blueberry frozen yogurt is a frozen yogurt made for ice cream lovers. I could not believe just how rich and creamy this frozen yogurt was. Normally, fro-yo is a poor substitute for real deal ice cream, but that's definitely not the case here. Plus, I loved that this actually had real blueberry flavor, a novelty in the frozen novelty world. Next time the ice cream craving hits, I know exactly what I am turning to!"
"Frozen Greek Yogurt eh? Well, I often begin my day with regular Greek yogurt, so the potential for symmetry naturally made me curious about the possibility of Stonyfield Farm's newest product. From the first bite, the texture was definitely distinct from iced cream: firmer and slightly more elastic, but slicker than a gelato. I could definitely get to enjoy that: it felt much more substantial than most iced creams, especially anything approaching fat-free."


"Dessert in our house seems to come with fanfare if my 4-year-old and 2 ½-year-old sons are involved. For some reason, they have taken to covering their eyes and waiting with great excitement and anticipation to see what Mommy or Daddy will bring forth from the kitchen to the dining room to tempt their tiny, yet rather sophisticated, palates. This past weekend, it happened to be Oikos Chocolate Organic Nonfat Greek Frozen Yogurt. Now, as a mom, I particularly like that it's A) organic and B) yogurt. As kids, all they really care about is that it is A) chocolate and B) ice cream. Only it's NOT. It's even better! Reactions? See what happens when you ask a child to unpack his adjectives:
4-year-old: CHOCOLATE ICE CREAM! It's very chocolatey. It's yummy. There's a big squirt of whipped cream on top of it. And it was a BIIIIG scoop. I think it's very, very chocolatey – it's chocolaty a LOT.
When I told him that it was frozen yogurt, not ice cream, he said: No, it's not yogurt. You're just joking about that, Mommy.
2 ½-year-old: Mmm ice cream – CHOCOLATE! This is yummy, yummy. Mm, yum yum yum. I asked him what else he wanted to say: THANK YOU! And then he proceeded to lick the bowl and ask, Mommy, may I please have some more?"

"The Stonyfield frozen yogurt has become a godsend for me… as someone who's watching what they eat but can't resist some good ice cream, frozen yogurt is exactly what I need! With so many awesome flavors like honey vanilla, blueberry, chocolate, dark chocolate and even go-to standard vanilla, this frozen yogurt tastes just like regular ice cream. What's the best part, little to no fat! It doesn't get more guilt-free than that. I couldn't have been happier to find this organic frozen yogurt, especially as I lean more towards organic in general. I was already a fan of Stonyfield yogurt so this was a wonderful addition to their line. Look in my freezer and you'll likely see a tub of Stonyfield frozen yogurt there in the future."

Your Recently Viewed Recipes
Join our community of 5 million cooks!
Get free recipes, exclusive partner offers, and more.
Thank You for Signing Up!
There was an issue signing you up. Please check your email address, and try again.