Sir Kensington's Gourmet Scooping Ketchup Review
"If you think that ketchup is just ketchup, you probably haven't tried Sir Kensington's Gourmet Scooping Ketchup. This ketchup tastes completely different from your average, run of the mill condiment. Made with local ingredients in small batches, Sir Kensington's ketchup is far superior to the mass-produced varieties loaded with sugar and preservatives. I tasted the ketchup first on its own and the flavors are incredible; you can really taste the tomatoes that went into making this heavenly sauce. I also sampled the ketchup on a hamburger and dipped some fries in it as well and let me tell you, this ketchup made the overall taste of my dinner so much better. I'd highly recommend Sir Kensington's ketchup to anyone!"
"The first thing I noticed about Sir Kensington's ketchup was the unique packaging. This ketchup comes in squat little cube-shaped bottles which allow you to dip your favorite foods that much more easily. No more shaking and pounding on the outside of the ketchup bottle. Sir Kensington's was specifically designed for dipping and the container is perfect for parties and other dip-centric events. What else did I love about Sir Kensington's? Everything! This ketchup was unlike any I'd ever tasted before. I really noticed the lack of artificial sugars and how pronounced the natural flavors were. This ketchup was simply incredible!"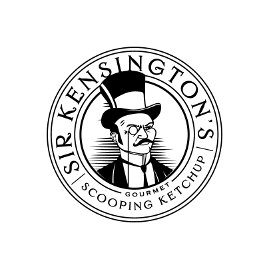 "It may have a funny sounding name and a quirky little man on its packaging, but Sir Kensington's ketchup is the real deal. Packed with delicious, all-natural flavors and specifically designed with dipping (and "scooping") in mind, this ketchup is great for serving at parties and other social events. Use it for a shrimp cocktail or for French fries -- no matter what you're dipping, this ketchup will be the perfect pairing."
"Sir Kensington's ketchup is made with all natural ingredients and you can really taste them all, even with your first sampling. I could really make out the tomatoes, apple cider vinegar, brown sugar and honey. I also loved the texture; much thicker and more substantial than most other ketchups, this sauce can really hold its own no matter what you serve it with."
"Sir Kensington's ketchup comes in two fantastic varieties -- Classic and Spiced. I love how the classic version had that perfect ketchup taste, but then elevated it with a sweet and tangy flavor profile and a thicker, more tomato-y texture. The spiced version had just the right amount of kick, although if you don't handle spicy well I would stick to the classic version. The Spiced ketchup had a substantial touch of heat that made the ketchup seem that much more gourmet and deep-flavored. Either way you can't go wrong with either type of ketchup from Sir Kensington."
Your Recently Viewed Recipes
Join our community of 5 million cooks!
Get free recipes, exclusive partner offers, and more.
Thank You for Signing Up!
There was an issue signing you up. Please check your email address, and try again.