Oliso PRO-1000 Vacuum Sealer Starter Kit Product Review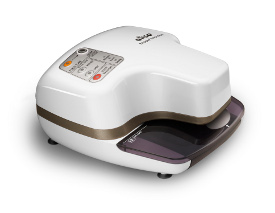 Oliso PRO-1000 Vacuum Sealer Starter Kit
Gifted By: Oliso
Reviewed By: Amanda Formaro
Enter to win an Oliso PRO-1000 Vacuum Sealer Starter Kit
(Contest begins 1/28/13 and ends 2/24/13).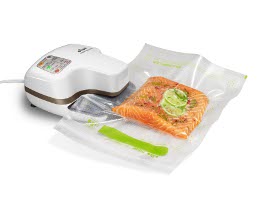 I've always wanted one of those vacuum food sealers, but their size alone is a deterrent. I have very limited counter space so big bulky machines are generally not very welcome here.
I like to buy meat in large packages to save money then freeze them into meal-sized portions for use throughout the coming months. Unfortunately it's next to impossible to get all the air out of zipper freezer bags, so sometimes I end up with freezer burn.
Prepping several slow cooker meals ahead to save me some time in the long run has been on my agenda as well.

For example, for a basic slow cooker beef stew recipe I cut up my onions, celery, potatoes and carrots and layered them with my beef stew meat all in one big bag.
Next I squeezed excess air from the bag and sealed the zipper top using the handy sealer tool that comes in the starter kit.
I lined up the number 1 on the side of the bag with the arrow on the machine then pushed to bag flush with the back of the machine.
The machine took over, grabbing a hold of the bag and beginning the air extraction process.
When the process ends the done light will illuminate.
With this little machine I was able to remove all the air and seal in the freshness of the ingredients, making for a quick weeknight dinner.
The Oliso® PRO-1000 Vacuum Sealer is very easy to use and the starter kit comes with several different sized bags. There are even bags available for pantry items, not just the refrigerator and freezer. Some ideas for items you can seal include chopped fruit, berries, fresh herbs for soups and stews, nuts, hard and shredded cheeses, meat, and even leftovers.
The starter kit also includes a tube for attachments available for mason jars and bottle stoppers.

Things I Love:
Compact size - This machine is only a little larger than my hand, making it easy to store away in a cabinet or drawer, and it uses very little counter space when out. It is lightweight, weighing less than a pound, so I can carry it with one hand if need be.
Reusable bags - Each bag can be used up to 10 times! Each one has numbers along the side that you simply line up with the arrow on the machine. The machine will create a hole, extract all the air and seal it. When you empty the bag, clean it out with warm soapy water, rinse and dry to be used again. Also, each bag has a zipper top so you can open the bag without cutting it open and reseal it if needed.
Easy control - If you have delicate food items that you don't want crushed, you can actually stop the vacuum at any point during the air extraction. This will seal the bag keeping what's inside fresh.
Availability - You can purchase the vacuum sealer and all bags and accessories at chain department stores such as WalMart and online at retailers like Amazon. You can also purchase these items on the Oliso website.

While I'm not crazy about how loud the machine is during operation, it only lasts at most 30 seconds or until all air has been extracted from the bag. The machine performed flawlessly and was quite simple to use. I am very happy with it and will be using it again and again.
Your Recently Viewed Recipes
Join our community of 5 million cooks!
Get free recipes, exclusive partner offers, and more.
Thank You for Signing Up!
There was an issue signing you up. Please check your email address, and try again.