MI-DEL Cookies Review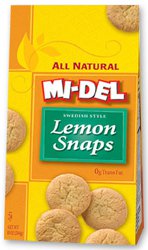 "The MI-DEL cookies are simply a delight! With a variety of flavors and offerings I didn't know what to try first. I decided on the Natural Lemon Snaps, since lemon cookies are my favorite! They did not disappoint, if you are a lemon fan you'll love these, they pack a mighty crunch and are lemony but not too much so. They would be perfect alongside some tea or maybe even crumbled over some ice cream, yum!

Once I finished trying the lemon I knew I had to sink my teeth into the bite-sized Natural Oatmeal Chocolate Chip cookies, they are adorable! Though small they are loaded with flavor and if you're not careful you will have eaten a whole handful before you can say crunch. These would also be perfect to throw into a bowl of ice cream; do you see a theme here? These are very tasty, but you don't get a lot of actual chocolate chips in them, they are pretty small and all.

Another great flavor from MI-DEL is their Organic Ginger Snaps; if you are a fan of this flavored cookie you will adore these. They have the perfect combo of spicy and sweet with a delicious crunchy finish. These cookies would be heavenly to serve with ginger orange tea or any tea really.

The last cookies I tried were the Organic Snickerdoodles; also bite-sized these little cookies are dangerously tasty and could become addicting. They are exactly what are so great about a snickerdoodle, the melt in your mouth honey graham flavor with a cinnamon sugar finish. I loved these! It's so nice to know you can find cookies out there that are organic, natural or gluten-free that still taste so darn good."

"I've always been a fan of gingersnaps, but these cookies raise the bar considerably. These tiny, delicious snacks are as close as you can get to ginger without actually biting a ginger root. Perfectly crunchy, and not too sweet, these decadent treats offer an explosion of ginger that will leave your mouth tingly and hungry for more."

"These Mi-Del cookies are some of the tastiest cookies I have had a chance to taste in a very long time. I love how each cookie has a satisfying crunch, and they are not ones to shy away from flavor in their sweets. The Ginger Snaps have a sharp ginger bite that I absolutely adored. The Lemon Snaps similarly had a bright citrus-y flavor that I never get from other pre-packaged cookies. Even the Oatmeal Chocolate Chip Cookies were bursting with real chocolate flavor. For a satisfying cookie with unreal amounts of flavor, you've got to try these treats!"

"Word to wise: These cookies are packed with flavor. My first thought was that these cookies were spicy (I tried the Ginger Snaps)! If you love savory treats but still need a sweet fix, these cookies are perfect for you. It's an unexpected treat that satisfy at the same time."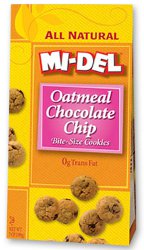 "Mi-Del's Lemon Snaps have the texture of a ginger snap, but are packed with brighten lemon flavor. They're refreshing without being overpowering. These lemon snaps are subtle, light sweet treat. They'd be great with a cup of tea of coffee.
Mi-Del's All Natural Oatmeal Chocolate Chip cookies are tiny, bite-sized treats, but they mighty in flavor. These little cookies are fun to pop in your mouth! It's amazing that such little cookies have so many chocolate chips packed into them. What a fun snack!
Mi-Del's Ginger Snaps are PACKED with ginger flavor. If you're a ginger fan, these crispy cookies are for you! Feel no guilt with these fun cookies, they're all natural!"
"If you like crunchy cookies, these are for you! They have a shape and color similar to a Nilla wafer. I imagine they might taste good in a pudding or trifle. I tried the Lemon Snaps, which had an intense, sweet lemon flavor. The texture of the cookie was stiff and crunchy, but with a sort of candied bite to it. For a cookie that appears so plain and unassuming, it was surprisingly flavorful!"
"Oh boy, if you love ginger you will eat up these Mi-Del Ginger Cookies. They are the perfect combination of sweet and tangy. These are not your average ginger cookies. They are the perfect wake-me-up treat with some Earl Grey tea in the morning.
The Mi-Del Oatmeal and Chocolate Chip cookies are truly bite-sized and extremely delicious. Be careful, it's too easy to keep popping these yummy little treats in your mouth. They are the perfect snack if you just want a taste of something sweet."

Your Recently Viewed Recipes
Join our community of 5 million cooks!
Get free recipes, exclusive partner offers, and more.
Thank You for Signing Up!
There was an issue signing you up. Please check your email address, and try again.