IMCG Herb Mill & Keeper Review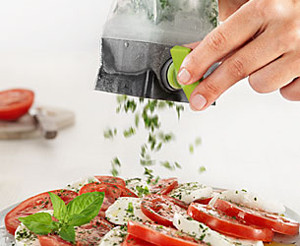 Herb Mill & Keeper
Provided by IMCG
www.imcg.us
Reviewed by Jordan Sward, Editor, RecipeLion.com
How many times has the following scenario happened to you? You buy a bunch of fresh herbs, use half of them, and before you know it they've turned to slime in your refrigerator. If this sounds familiar, the Herb Mill & Keeper is a tool you'll definitely want on hand.
From Memorial Day to Labor Day, I always have a bunch of fresh basil from my monsterous basil plant that seems to grow like a weed. The problem is, I can hardly pick it and use it quick enough before the bugs get to it. Not to mention, the tedious task of chopping fresh herbs isn't something I want to be bothered with when I'm preparing a quick meal. So when I saw this Herb Mill & Keeper, I thought it was a super inventive way to fix all my fresh herb troubles.
Here's how it works: Wash and dry your fresh herbs and place them in the keeper along with the ceramic ball. Place the whole thing in the freezer for 6 hours, or until you need fresh herbs. When you're ready, gently shake the keeper so the ceramic ball loosens the herbs and they fall down into the mill. Turn the knob, and the herbs will come out fresh and perfectly chopped. They'll defrost in minutes, so your dish will have the fresh flavor of fragrant herbs in minutes. Easy as that!
I love this product because it's like having a fresh herb garden on hand all the time. When I'm making soups, salad, or other recipes, I love that I can pull out the Herb Mill & Keeper and simply crank out fresh herbs. Plus, it will help save money by not wasting all the fresh herbs I buy or grow. When I used the product, I was surprised how easy it was, and how well it worked. When I sprinkled basil on a salad, it came out of the mill in perfectly chopped bits and they tasted like I had just picked the leaves and chopped them by hand.
Whether you're sprinkling basil on a pizza, topping a Mexican dish with cilantro, or adding parsley to a pasta dish, the Herb Mill & Keeper helps you do it quickly and almost effortlessly. It's so easy to use as many herbs as you want, then throw the keeper back in the freezer until the next time you need it. And the herbs will never go bad! It's like having the convenience of dried herbs, but with a wonderful fresh taste.
Your Recently Viewed Recipes
Join our community of 5 million cooks!
Get free recipes, exclusive partner offers, and more.
Thank You for Signing Up!
There was an issue signing you up. Please check your email address, and try again.