French Meadow Baker Review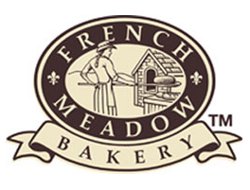 "I've been searching for really good gluten-free bread products for quite some time, and I'm beyond happy to say I've finally found one! French Meadow Bakery's line of gluten-free products are hands-down the best I've tasted. The first item I tried was the gluten-free multi-grain bread, as I'd been searching for a bread I could really enjoy for what seemed like forever. Well I wasn't disappointed! The multi-grain bread has everything I need and want in a bread; great flavor and soft, yet hearty texture.
Whether fresh or toasted, this bread tasted great, it's does not have that overly dry or heavy rice texture of some gluten-free breads. The same went for the gluten-free raisin bread; it has this nice crispy outside and somewhat chewy center when toasted, it's great! Based on what I've enjoyed so far from French Meadow, I'll be checking out the rest of their gluten-free products in no time."
"I never would've guessed this brownie was gluten-free! French Meadow Bakery's Gluten-Free Fudge Brownies made for the perfect afternoon snack. I'm not someone who avoids gluten, but for those that do, these fudge brownies would make a wonderful dessert – they taste just like the real thing (if not better)! You could definitely get away with serving these to your non-gluten-conscious friends with them being none the wiser.

As far as taste is concerned, I was most impressed with how moist the brownie was, giving it a slightly gooey texture which really hit the spot. Additionally, the chocolate flavoring was certainly present but not overpowering, a common problem I find with many brownie recipes. I only wish I had a scoop of ice cream to go with it! Each brownie is individually wrapped so it's super easy to grab one on your way out the door, especially if you're going to need a mid-afternoon energy burst."

"Wow!! And no, I wish I was exaggerating by using two exclamation points but alas these French Meadow Gluten-Free Brownies are really that good. They are like a cross between brownies and fudge as they are so thick, rich and dense. If you are craving chocolate then these brownie bites are ideal for you. Be sure to savor each bite, and they'll be gone before you knew it."

"For a sweet breakfast option, go with the cinnamon raisin bread from French Meadow Bakery. When warmed through, this bread has the nostalgic smell that will make your mouth water. The slices are denser than what's found on your average loaf, which means each slice seems heartier than perhaps what you're used to. Still, a hearty and chewy loaf that tastes this good cannot be discounted easily."

"The French Meadow Bakery Gluten-Free Fudge Brownies were some of the best pre-packaged brownies that I have ever had. I would have never guessed that they are gluten free, because these are some of the tastiest brownies around period. They were incredibly soft and chewy, with an intense chocolate flavor. They are super fudgy, but not overwhelmingly moist. I liked that they stayed together and didn't fall apart after one bite."
"This French Meadow Cinnamon Raisin Bread is a bread that I can totally get down with for breakfast or for a hearty snack. Unlike other varieties of cinnamon raisin bread, I liked that the French Meadow slices were not very sweet. The plump raisins add a subtle touch of sweetness to this hearty and chewy slice. The cinnamon flavor is not overpowering, as it just adds a pleasant aroma to the loaf. The interior of the slice is incredibly chewy, and it contrasts well with the crunchier and nuttier crust. Overall this made for one of the best pieces of breakfast toast."

"I am absolutely in love with French Meadow Bakery breads. For a person who recently went Gluten-free, I've been struggling with finding bread options I really enjoy. Well I don't have to worry anymore, French Meadow is everything I've been looking for. The Raisin Bread, which I recently tried is delicious, it has a crispy crust, a thick and satisfying texture, great flavor, and honestly I'd never know it's gluten-free! I had mine toasted with a little goat cheese spread and it tasted amazing. I can't get past the overall great flavor of the bread. What I've struggled getting past with other breads out there is the odd texture, the dryness; that's not the case with this bread. Thanks to this discovery I'll sure to be eating many more French Meadow gluten-free products soon."
"What a pleasant surprise! French Meadow Bakery's Gluten-Free Fudge Brownies are quite tasty. I've sampled other gluten-free products and found them to have poor texture and flavor, but that is simply not the case with these folks. The brownies have great bite, superb fudgy flavor, and have just the right combination of moistness and flakiness to make the perfect brownie. The fact that I didn't have to take the time to make these brownies makes them taste even better! It's nice that French Meadow Bakery individually wraps the brownies, too. It makes them ideal to bring with as a mid-day treat at work, or to pack in the kids' lunchboxes."
"Though slightly more dense than your average bread this French Meadow Bakery Cinnamon Raisin Bread was very yummy. Unless someone told me I'd never know this was gluten-free. I like that when you toast the bread it doesn't get too crispy, the center is chewy but it does have enough crunch on the crust to make the perfect toast. I'd make this again for sure as an addition to any breakfast, it goes great with butter or cream cheese."
"French Meadow Bakery's gluten free cinnamon raisin bread is delicious! Unlike some gluten free breads, this bread is moist and sweet. It's a perfect bread for toasting at breakfast or for a snack. The cinnamon swirls in the bread give it a rich flavor. I'm a fan!"
"The term "gluten-free" makes me nervous - I instantly think of dry, flavor-less foods. I was so excited when I realized this brownie breaks that mold. I loved the chocolate-y taste and soft texture. Chocoholics like me will have no problem making the switch with this delicious dessert."

Your Recently Viewed Recipes
Join our community of 5 million cooks!
Get free recipes, exclusive partner offers, and more.
Thank You for Signing Up!
There was an issue signing you up. Please check your email address, and try again.