Farm Rich Review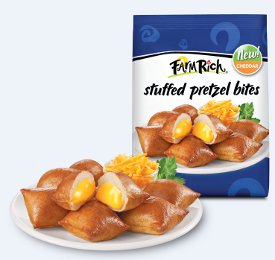 "If you're looking for a yummy, easy-to-prepare snack, then you've got to get yourself some of Farm Rich's Stuffed Pretzel Bites! The super-melty cheese inside has incredible cheddar flavor, and the soft outside is simply full of pretzel-y goodness. These Stuffed Pretzel Bites definitely take snacking to the next level, and with actual cheese in them, they far and away surpass any other cheesy pretzel snack out there.
While so many other snack products have bad-for-you stuff in them, Stuffed Pretzel Bites have 0 grams of trans fats per serving…something anyone – parent or not – should be on the lookout for. So easy to just grab a handful and put 'em on a plate, nuke it for a minute, and enjoy a quick after-school of after-work snack. Having a party with more time to prep? Bake 'em in the oven or toaster oven for about 11 minutes. Either way you make them, Farm Rich's Stuffed Pretzel Bites are sure to please even the pickiest of eaters. Simple, delicious, and fun!"
"Farm Rich stuffed pretzels are a yummy treat for snacking or to serve at a party. If you like soft, warm, chewy pretzels, you'll love these hot pretzel bites filled with melted cheese. What a combination!"
"For a super quick and yummy snack, these pretzel bites simply cannot be beat. I love the texture and flavor contrast between the chewy pretzels and the gooey cheese. Plus, I could not believe how easy these were to make. You just pop them in the oven and then they're ready to go in no time. These make a great snack, and would work perfectly as a tasty appetizer as well. I loved them dipped with brown mustard. These cheese-filled pretzel bites definitely do not disappoint!"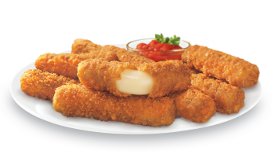 "These Farm Rich Cheese Sticks were surprisingly good for frozen mozzarella sticks. I still think that nothing can top fresh ones from a restaurant, but these were pretty close! We really liked that they stayed intact during baking. The cheese didn't leak out all over the baking pan, which was really good for cleanup! They were still perfectly gooey though, despite being firm enough not to leak. The breading was crispy and flavorful, but it could have been a bit lighter and crunchier. One of us felt the breading was a bit "powdery" at times, almost as if the breadcrumbs were a bit too fine.
We also thought it would have been really nice and convenient to package them with pre-made marinara sauce, since it's not always something we have in the house. Overall, we felt that we would definitely recommend them to friends. We especially liked that they were baked and not deep-fried!"
The Farm Rich Cheese Sticks were quite addicting, I baked some up for my friends and they couldn't get enough of them. We all agreed that they tasted so much better than your average frozen snack (quick to bake in the oven) type of product. The cheese tasted like REAL cheese and it wasn't too greasy.
Your Recently Viewed Recipes
Join our community of 5 million cooks!
Get free recipes, exclusive partner offers, and more.
Thank You for Signing Up!
There was an issue signing you up. Please check your email address, and try again.