Chick-Fil-A Review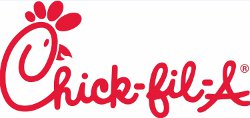 "I love biscuits. Good biscuits. And Chick Fil-A has GOOD biscuits. Though I have to say I questioned chicken as a breakfast food, this chicken biscuit sandwich made me rethink this. The chicken was tender and tasty - great flavor in the coating! And the biscuit -- OH the biscuit. Buttery yummy, soft, fabulously yummy. I had a little extra biscuit at the end, so I dabbed a bit of honey on it and it was also bliss! I've had their egg biscuits in the past, so I knew I was in for something good, but I was really impressed with the flavor of the Chick Fil-A Chicken Biscuit.
Multigrain oatmeal is a new offering at Chick Fil-A. With several toppings (nut mix, mixed dried berries, and cinnamon brown sugar) to choose from, you can customize your oatmeal to suit your preferences. The multigrain oatmeal has a richer flavor with more depth than traditional oatmeal and I was glad I gave it a try. I added the berries and they were a nice accent to the texture of the oatmeal. I recommend this multigrain oatmeal and am glad to see it as an option on the Chick Fil-A menu."

"I had never had Chick-fil-A before today. And now, after trying a chicken biscuit breakfast sandwich, I consider this the first day of the rest of my life. I am already thinking about the next time I can enjoy this amazing breakfast bite - and this time, I will know to get two! A buttery, flaky biscuit envelops a moist, perfectly seasoned breaded chicken breast, and each bite is an exact balance between light and hearty.
Chick-fil-A's slogan says, "We Didn't Invent the Chicken, Just the Chicken Sandwich," and they aren't kidding! I've never had a more flavorful chicken sandwich - for breakfast OR for dinner."
"Chick-fil-A's multigrain atmeal is such an unexpected treat! It's a hearty oatmeal with many delicious topping options including mixed dried fruit, mixed whole nuts and cinnamon brown sugar—you can even use their packets of honey! These toppings mixed together create a harmony of sweet, tart and nutty flavors that is stupendous! The cinnamon brown sugar, is perhaps, the genius ingredient behind this oatmeal—it's wonderful! Chick-fil-A's oatmeal definitely beats out competitor fast food oatmeal options."

"The Chicken Breakfast Biscuit from Chick Fil-A is the kind of sandwich that can pretty much make your morning! It's the ultimate comfort sandwich, breaded chicken crammed in between a melt-in-your-mouth biscuit. It's both savory and filly and paired with some fruit is a pretty darn good way to start the day. This sandwich would be awesome any time of the day, morning, afternoon or night.
The Chick Fil-A multi grain oatmeal is a wonderful addition to their menu. For those of us looking for something a little healthier, but still quick and tasty, the oatmeal is perfect! With packets of brown sugar, nuts and dried fruit you can add to it, the oatmeal becomes a delicious and filling complete breakfast meal. It tastes like oatmeal hot and fresh out of the pot at home, it's that good. I'm always a fan of food you can get at a restaurant that tastes homemade. I highly recommend this oatmeal if you're looking for a healthy meal to start your day."

"Chicken is not usually on the top of my list for breakfast fare, but that all changed after I tried Chick-fil-A's breakfast chicken biscuit sandwich. Savory fried chicken seasoned to perfection is hugged between two fluffy, moist, hot biscuit halves in a marriage of sandwich heaven. I could eat this chicken biscuit sandwich day or night, for breakfast, lunch, dinner or a snack!"
"The multi-grain oatmeal from Chick-Fil-A was a great start to my morning. The oatmeal itself was tasty and hearty but with the added dried fruit and brown sugar and cinnamon topping, it was delicious! This is definitely the kind of breakfast dish you can make part of your everyday diet - easy to transport to work or school.
I wouldn't normally think of chicken for breakfast but this breakfast biscuit from Chick-Fil-A hit the spot. The biscuit was warm and buttery and the chicken was tender and juicy. The chicken and biscuit combo is delicious enough all on its own; no heavy, messy sauces needed here!"

"Chick-Fil-A's delicious oatmeal is the perfect pick-me-up for mornings on the go. It's that perfect consistency you love with oatmeal and with their selection of toppings you can quickly make a warm and delicious meal full of fruit, cinnamon, and brown sugar. Yum!"

"The first sip of this milkshake initially surprised me. "Wait," I thought to myself, "was that a real chunk of peach I just slurped up?"
The absolute best part about this milkshake was that it had that real peach flavor I absolutely love. One sip of this milkshake and I was sold.
This combines the rich creaminess of a standard milkshake with the bright peach flavor and super convenient ordering. I would definitely walk the 5+ miles it took me to get there just for another sip of this delectable beverage."

"This morning for the first time, I enjoyed a Chick-fil-A® Chicken Biscuit for breakfast. And when I say I "enjoyed" it, it's simply because there isn't a stronger word that seems appropriate. This sandwich was FANTASTIC! Their breaded chicken was extremely moist, tender, and juicy – and it's REAL chicken breast, not a chopped up bunch of chicken parts – and the buttermilk biscuit was among the best I've ever had.
It practically melted in my mouth, and had incredible flavor and the perfect texture. Looking for a delicious, mouth-watering breakfast? Head to Chik-Fil-A and get yourself one of their Chicken Biscuits. Hey, grab one for lunch, for snack, at dinnertime, whatever. You won't be disappointed!"
"The thing I like about Chick Fil-a is that you can customize your sandwich by adding bacon, cheese, etc. The basic version of the Spicy Chicken Sandwich comes with just pickles (which I love on a chicken sandwich). I customized by adding lettuce and Provolone cheese. When she offered condiments, I didn't think about the fact that the sandwich didn't come with anything else on it, so I didn't add any. But after the first bite, I realized it didn't need any.
The chicken was so flavorful and juicy that the sandwich didn't need any mayo or dressing. I was concerned that spicy might be a little too spicy, but the chicken fillet had a nice peppery flavor without being "too hot to eat without something to wash it down" spicy and it didn't leave that "I ate something spicy and need water" feeling 10 minutes after. The chicken breast wasn't greasy, though it is breaded - I imagine the non-greasiness ties into the pressure cooking process. Chick Fil-A does cook in refined peanut oil, so I expect those with peanut allergies shouldn't try this. Overall, I was very pleased with the flavor of the sandwich and will order it again, though I might add a touch of mayo or something next time (personal preference)."

"Yum! My chocolate milkshake (a small) had the perfect chocolate flavor and was creamy and smooth. I watched it being hand-mixed and it reminded me of my old ice cream shop days. Topped with whipped cream and a cherry (a favorite of mine), it was the perfect splurge at the end of a busy day. And even the small was plenty of shake for me (but I also had a sandwich to eat with it). Smooth is the word I keep coming back to -- this was a smooth shake."
Your Recently Viewed Recipes
Join our community of 5 million cooks!
Get free recipes, exclusive partner offers, and more.
Thank You for Signing Up!
There was an issue signing you up. Please check your email address, and try again.