Capresso froth TEC Automatic Milk Frother Review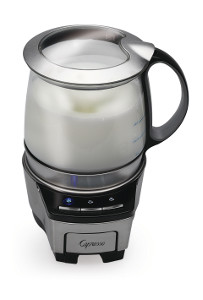 Capresso froth TEC Automatic Milk Frother
Provided by Capresso
www.capresso.com
Reviewed by Jordan Sward
Making thick, rich frothed milk at home has never been easier. The Capresso froth TEC Automatic Milk Frother creates froth for coffee drinks and other treats at the touch of a button. This machine stands above most handheld milk frothers because of how easy it is to use. Simply pour in milk and select the cold, warm or hot button. The machine will automatically turn off when the milk is done and ready to be added to any hot or cold drink.
Using a steaming wand to froth milk can sometimes be difficult and require skill. The beauty of an electric milk frother is that you can let the milk froth on its own just by pressing a button. Once the froth is ready, the machine will turn off and you can easily spoon the froth onto any latte, hot chocolate, cappuccino, or other drink. The froth is nice and thick, and you can choose how much to make each time.
The machine also has a heating setting, to easily heat milk without scalding it. This is also a great tool to mix dry powders, like hot chocolate mix, with milk. Or, simply grate a chocolate bar into the machine along with the milk and it will transform into the best cup of hot chocolate. The cold setting can also be used to mix chocolate milk or malted milk.
I was surprised to read about all the different ways this machine can be used, in addition to making delicious homemade lattes or hot chocolate. Frothed milk can add a creamy flavor to mashed potatoes, and cold frothed milk can be added to any recipe, like custard or meringue, for stiffness and a richer texture. The froth TEC can also be used to "marinate" flavors like vanilla, citrus, cloves, or other spices to add flavor to milk. Cold frothed milk can be added to lemonade or orange juice to create refreshing lemon meringue lattes or orange cream lattes.
The possibilities of how to use the Capresso froth TEC Automatic Milk Frother are endless, and the machine is so easy to use that you'll want to try them all.
Enter to win a Capresso froth TEC Automatic Milk Frother from 11/11/2013 through 11/24/2013.
Your Recently Viewed Recipes
Join our community of 5 million cooks!
Get free recipes, exclusive partner offers, and more.
Thank You for Signing Up!
There was an issue signing you up. Please check your email address, and try again.