Campbell Soup Company Review
By:
The Editors of RecipeLion.com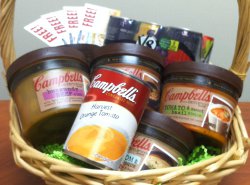 "Portobello Mushroom & Maderia Bisque soup - After just getting over a cold, I was really looking forward to sitting down with nice, big bowl of hearty soup for lunch. This Mushroom & Maderia Bisque did not disappoint! Each spoonful delivered soft and chewy portobello mushrooms that paired perfectly with the thick and tasty broth. I can also see this soup making a great sauce for a chicken or rice dish."
"Slow Kettle Style Tuscan-Style Chicken & White Bean Soup with Asiago Cheese, Thyme & Rosemary - This is a hearty, warm soup that's perfect for Autumn. This soup is the perfect fall concoction. Packed full of flavor and great textures, the combination of vegetables, beans and chicken was just the kick-start I needed during my mid-afternoon slump. I can't wait to try all of the other flavors!"
"When you're in the mood for a big hearty bowl of soup, sometimes the canned varieties just don't cut it. But who has time to prepare and cook a homemade batch of stew or soup to get that fresh-from-the-kitchen taste? If you're big on convenience and even bigger on taste, you have to try the newest soups from Campbell's: Slow Kettle Style Soups! Crafted with unique ingredients like baby bella mushrooms, asiago cheese and sweet corn, plus herbs and spices like thyme, rosemary, and ground red pepper, these slow kettle soups taste as though they've been artfully developed and carefully tended. I tried the Southwest-Style Chicken Chili with Black Beans & Sweet Corn and loved the rich, stick-to-your-ribs quality and mildly spicy chili flavor. There were generous chunks of chicken, along with a wonderful mixture of black beans and sweet corn. The best part about this chili is that I didn't feel too stuffed after enjoying a bowl – as much as I love chili, sometimes it can be really heavy and this Campbell's Slow Kettle Southwest-Style Chicken Chili was just right!"
"I'm definitely a fan of Campbell's Burgundy Beef Stew! This hearty stew has a generous portion of lean beef, baby portobello mushrooms, potatoes, and carrots that makes for a delicious and nutritious meal. The flavor was perfect, and it didn't have too much salt like many prepared soups do. This is perfect comfort food for a cold, winters night. It would be great to put over mashed potatoes or noodles for a quick stroganoff. I highly recommend it!"
"I tried the new Campbell's Slow Kettle Style Tomato and Sweet Basil Bisque, and was floored by how delicious it was. If you like creamy soups, then you will absolutely love this soup. If I was making bisque at home, I would want it to taste like this product. The soup was very creamy, with just the right amount of bright tomato flavor. It had some real tomato chunks in it too, which is a big plus in my book. For the most part, I recognized all of the ingredients in this soup, which is always reassuring. If you like the flavor and consistency of homemade creamy soups, then the new Campbell's Slow Kettle Style Tomato and Sweet Basil Bisque is for you."
"Campbell's Southewest-Style Potato, Cheese & Chilies soup is the perfect lunch for a cold winter day. It's hearty, creamy, and cheesy, the perfect combination for a warm filling meal. It's so full of delicious vegetables you are sure to get a spoonful each time. Yum!"
"Tomato soup has always been a fall favorite of mine, and this Harvest Orange Tomato soup from Campbell's was no different. The classic tomato flavor that we all know and love has been kicked up a notch with a delicate blend of spices. Made with garlic, rosemary, and sage, I found this delicious soup to be the perfect lunch for a crisp, fall day. It's a satisfying meal that's easy to prepare and ready in no time. I can't wait to pair it with a grilled cheese sandwich!"
"V8 V-Fusion Concord Grape Raspberry juice takes me back to the summer days of my childhood. Try as I might, I have never acquired a taste for V-8 tomato juice, which still makes me choke every time I try to swallow it. Fortunately, this drink has all of the nutritional benefit of a vegetable juice drink, with a sweet and fruity tang and no questionable texture. The flavor resembles hard candy like Jolly Ranchers or a children's juice drink, but it's more nutritious than either. One little can packs a full serving of fruit and veggies, plus crucial antioxidants and electrolytes. It's a great alternative to the chemical-laden sodas I usually drink, but this little pick-me-up doesn't cause a caffeine crash. I can't wait to try the other flavors!"
"It just so happened that I was asked to review this juice right as I was leaving to visit friends for a weekend, so I tossed it in my purse and brought it along. Between the monkey bread, cinnamon rolls, and frozen pizzas I ate at my friend's house and the McFlurry, french fries, and take-out pizza I ate on the highway, the V-fusion was a convenient, portable, and palatable way to work something healthy into my diet over the weekend. As a general rule, I hate vegetable juice, but I decided to try V-fusion since it had a combination of both vegetable and fruit juices. While the deep, rich taste of Concord grapes easily overwhelmed the flavors of sweet potatoes and carrots, I still felt there was something the slightest bit vegetal about the juice. I would suggest drinking it chilled for a more refreshing flavor. Although the juice provides a full serving of vegetables and a full serving of fruit, those vitamins come at the cost of 140 calories a can. However, I think the nutritional benefit is well worth a percentage of your daily calorie intake, and you can easily water the juice down a bit without losing any flavor."
Your Recently Viewed Recipes
Free projects, giveaways, exclusive, partner offers, and more straight to your inbox!

Report Inappropriate Comment
Are you sure you would like to report this comment? It will be flagged for our moderators to take action.
Thank you for taking the time to improve the content on our site.
Recipe of the Day
With just the right amount of sweet and savory, along with a great crunch throughout, this Golden Raisin Broccoli Salad is sure to be… See more

Something worth saving?
SAVE your favorite recipes
ADD personal notes
GET fast cooking tips