Barbara's Hand-Made Cookie Pies Review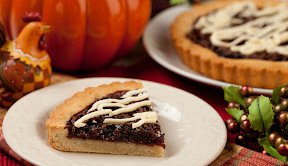 "Goodness me. I think this is the dawning of my food dreams coming true. A cookie? A pie? A cookie pie!? In all seriousness, Barbara's Cookie Pies are a seriously delightful confection. I don't have the biggest sweet tooth, so just a couple of bites was enough for me. It's an amazing dessert that I would love to serve at my next family gathering, I think everyone would really like it."
Caramel Apple Cookie Pie
"When I first heard about Barbara's Cookie Pies, my initial thought was that they were simply a form of cookie cake. Boy was I wrong! This decadent dessert is so much more than that! With a melt-in-your-mouth buttery cookie dough crust and a variety of toppings to choose from, these cookie pies are unlike any dessert I've tasted before. I tried the Apple Caramel Cookie Pie and was blown away by the scrumptious combination of the cookie crust and the cinnamon apple filling. You simply have to try this treat!"
"I've seen interesting dessert combinations online, but I've always been a little hesitant to try them. Barbara's Caramel Apple Cookie Pie was a wonderful way to ease me into the world of unusual desserts, and I don't know if I'll ever turn back! With a fresh-tasting sugar cookie crust and a bakery-worthy caramel apple topping, this dessert took the best aspects of some of my favorite desserts and combined them into one dish. How perfect is that? This is just the kind of sweet you need if you're looking to "wow" some guests coming over for the day… but be sure to save a few pieces for yourself!"
"Barbara's Hand-Made Apple Caramel Cookie Pie is divine! It's chewy and sweet, filled with gooey caramel. The fresh tart apples blended with the sweet caramel and cookie crust make this cookie pie out of the world. Because this little pie's crust is made of cookie, it out-shines any apple tart out there. I loved it!"
"Barbara's Cookie Pies are so decadently delicious, I almost felt guilty eating them! This sinfully sweet treat has a rich, buttery cookie crust that I couldn't get enough of, and then it piles on the flavor with toppings and fillings of your choosing. The one I sampled was the Apple Caramel and the combination of dried apples, pecans, brown sugar, caramel and spices was just perfect. I've never seen or tasted anything like this before and now that I have, I don't want to stop!"
Peanut Butter Cup Cookie Pie
"Wow! A cookie and a pie in one dessert?! You just know that has to be good. And it was. The Peanut Butter Cup pie had a yummy cookie crust, peanut butter filling, and chocolate to top it off. I could eat a whole one myself!"
"Peanut butter lovers: Watch out! This Peanut Butter Cup cookie pie is made from solid peanut butter and chocolate--and cookie of course! I never thought of combining peanut butter cups with cookie, but now I could never imagine eating them apart. Barbara--the cookie connoisseur--has changed my life."
"Dessert is my favorite food group, so when I had the opportunity to sample a cookie pie from Barbara's Hand-Made Cookie Pies, I jumped at the chance. Imagine the best of both worlds - a creamy chocolate and peanut butter cup plus a delightfully crunchy sugar cookie, and that's what you get with their Peanut Butter Cup Cookie Pie. Heaven in a bite!"
"The Peanut Butter Cup Cookie Pie is like a giant peanut butter cup molded into a sugar cookie crust. Rather than having being totally overwhelmed by chocolate and peanut butter (which I find happens with most peanut butter cups), there's a delicious balance between the two. This is definitely a fun dessert to have around."
"I sampled the peanut butter cup cookie pie and all I can say is... wow! Talk about decedent - this doesn't skimp on the chocolate, peanut butter or cookie crust. Each layer is sweet, flavorful and soft. I would definitely get one for my next gathering - it's a great alternative to a cookie cake or traditional pie."

Cinnamon Crumble Cookie Pie
"This Cinnamon Crumble cookie pie certainly takes cinnamon coffee cake to the next level! The decadent crumble topping with the doughy crust make for one magnificent coffee cake/pie!"
"This pie is a delicious slice of heaven! When served warm with a scoop of vanilla ice cream, it's hard to beat this awesome cookie pie creation. I absolutely loved the slice of the Peanut Butter Cup pie I got to sample and would definitely serve this pie the next time I have company over to my house."
"The Cinnamon Crumble cookie pie tasted more fruity than cinnamony, but in a good way! I'd compare it to a nice breakfast pastry, like a coffee cake. You have the irresistible crumbles on top and a sweet, refreshing berry filling on the inside. The cookie crust was more buttery than sugary, lending itself to the flaky pastry crust you would expect in a morning pastry treat."
"Anyone who knows me understands that I have a somewhat obsessive relationship with dessert. I like it a lot. Needless to say, when I heard about Barabara's Hand-Made Cookie Pies, I couldn't wait to dig in and give them a try. My favorite pie, by far, was the Cinnamon Crumble. Made with a light, buttery cookie crust, the delicious cinnamon crumble and pecan topping was mixed with a surprise layer of raspberry preserves. Sweet, spicy and tangy - I can't think of a better treat to pair with an afternoon cup of coffee or tea. Thanks, Barbara!"
Your Recently Viewed Recipes
Join our community of 5 million cooks!
Get free recipes, exclusive partner offers, and more.
Thank You for Signing Up!
There was an issue signing you up. Please check your email address, and try again.