Black Bean and Sirloin Chili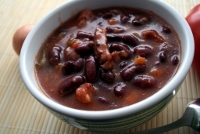 This delicious chili is made unique with the addition of sirloin and black beans. This is a great chili variation that the whole family will love. Serve this topped with cheddar cheese and onions for a hearty meal.
Notes
For more great chili recipes and to learn some chili cooking tips and tricks, click here.
Ingredients
1

/

3

cup olive oil
2 pounds boneless sirloin, cut into 1/2-in. cubes
2 cups yellow onion, chopped
2 tablespoons garlic, minced
5 fresh jalapeno peppers, seeded and chopped fine

1

/

3

cup Masa Harina (corn tortilla flour mix)

1

/

3

cup plus 1 tsp chili powder

1

/

2

teaspoon cayenne

1

/

2

teaspoon ground cumin

1

/

2

teaspoon white pepper
2 teaspoons salt
4 cups beef broth
2 cups cooked black beans, rinsed and drained if canned
Mild Cheddar, grated for garnish
Red onion, minced for garnish
Instructions
In a heavy kettle heat the oil over moderately high heat until it is hot but not smoking. Brown the sirloin in batches, transferring it as it is browned with a slotted spoon to a bowl.

In the fat remaining in the kettle cook the yellow onion, the garlic and the jalapenos over moderate heat, stirring, until the onion is softened. Add the Masa Harina, the chili powder, the cayenne, the cumin, the white pepper, and the salt, and cook the mixture, stirring for 5 minutes.

Add the broth and the sirloin and simmer the mixture, uncovered, stirring occasionally for 45 minutes, or until the meat is tender.

Stir in the beans, simmer the mixture for 15 minutes, and serve the chili garnished with the cheddar and the red onion.
Your Recently Viewed Recipes