Not-Your-Mom's Cheeseburger Casserole
A cheeseburger casserole recipe guaranteed to shock and impress!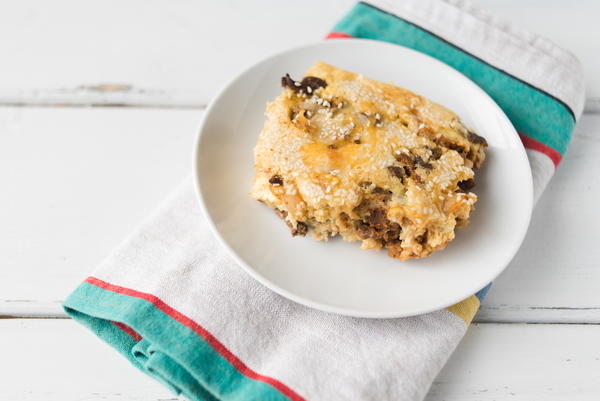 Not-Your-Moms Cheeseburger Casserole
Ready for cheeseburgers in a new way? This Not-Your-Mom's Cheeseburger Casserole really puts a twist on your typical cheeseburger recipe. Think of everything you love in a cheeseburger, and now put it into a dinner casserole. This cheeseburger casserole recipe makes dinner a snap both with cooking and cleaning up. If you love trying new casserole recipes then this is one you should put at the top of your list because it is undeniably delicious! 
Ingredients
2 pounds ground beef
1 large onion, chopped

1

/

2

cup Sriracha
3 tablespoons Dijon mustard

1

/

2

teaspoon salt
2 cups cheddar jack cheese, shredded
1 cup Bisquick
2 cups milk
4 eggs
1 tablespoon sesame seeds, optional
Not-Your-Mom's Cheeseburger Casserole
Cheeseburger Casserole Recipe
Preheat oven to 400°F. Spray a 9x13-in. baking dish with cooking spray
and set aside.

In a skillet, brown and crumble the beef with the onion & salt until meat is no longer pink. Drain the meat. Add the Sriracha and mustard. 

Spread into the prepared pan. Top with cheese.

In a medium bowl, combine the Bisquick, milk and eggs with a wire whisk or a fork until thoroughly combined. Pour evenly over the top of the cheese. Sprinkle with sesame seeds.

Bake 25-30 minutes or until a knife inserted near the center comes out clean.
Your Recently Viewed Recipes