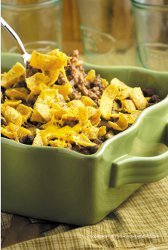 Hamburger casserole recipes make excellent dinners. This one, called Hamburger Crunch, can be made from start to finish in well under an hour, so it could be a weeknight meal. The corn chip topping makes this dish fun and even more delicious. You'll certainly love the "crunch" factor. Give this recipe a try this week and see for yourself how good it is. After all, you can't have too many easy weeknight meals.
Ingredients
2 pounds ground beef
1 tablespoon onion, minced
2 cans (10 3/4-ounce) tomato soup
1 teaspoon chili powder
4 cups corn chips
8 ounces package shredded Cheddar cheese
Instructions
Preheat oven to 350 degrees F.

Brown ground beef and onion together in a large skillet over medium heat; drain.

Stir in soup and chili powder. Spread in an ungreased 13"x9" baking pan; top with corn chips.

Bake, uncovered, at 350 degrees F for 20 to 25 minutes.

Remove from oven; sprinkle with cheese. Bake for an additional 5 minutes, until cheese melts.
Your Recently Viewed Recipes