Pumpkin Magic Cake
This amazing cake features a layer of creamy pumpkin custard at the bottom... it's magic!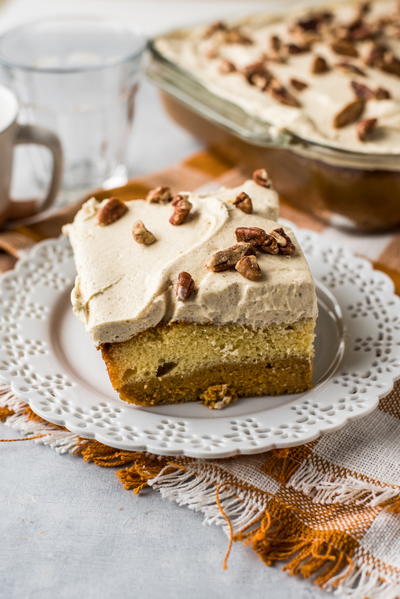 Pumpkin Magic Cake
This cake is magical in every sense of the word. Pumpkin Magic Cake is a cake mix recipe with a gooey pumpkin pie layer on bottom, fluffy cake layer in the center, and a sweet layer of pumpkin pie spice frosting on top. What makes it so magical is that from one cake batter you get two perfectly distinct layers! This cake recipe really couldn't be easier, or more delicious. Put a little magic in your fall dessert.
Yields12 servings

Ingredients
1 box yellow cake mix plus ingredients to prepare as directed on the box
1 (15-ounce) can pumpkin puree

1

/

2

cup evaporated milk

1

/

2

cup heavy cream
3 eggs
1 cup brown sugar
1 teaspoon pumpkin spice
1 (3.4 ounce) box white chocolate instant pudding mix
1 teaspoon pumpkin spice
1 cup cold milk
Pumpkin Magic Cake Recipe
It's not fall until you've had a slice of this delicious cake! We love this dessert as an alternative to traditional fall favorites like pumpkin bars or pumpkin pie (although we wouldn't turn down a serving of either). Pumpkin magic cake is like a delicious cross between these two desserts, with its distinct layers. The top is a delicious whipped pudding frosting, the middle is a fluffy yellow cake, and the bottom is a creamy layer of pumpkin pie. This recipe looks amazing when you cut into it, and it is sure to impress everyone at your fall party.
Instructions
Heat oven to 350 F. Lightly grease a 9x13 inch baking pan with cooking spray.
 

Prepare the cake mix according to directions on the package. Pour into the baking dish and set aside.
 

In a large mixing bowl whisk together the pumpkin puree, evaporated milk, cream, eggs, brown sugar and pumpkin pie spice until well combined.
 

Carefully pour the mixture over the cake mix.
 

Place the cake in the oven and bake for 50-60 minutes until the top is golden brown and done when a wooden skewer inserted in the middle of the cake comes out clean. Let the cake cool to room temperature.
 

When the cake has cooled prepare the frosting. In a large bowl whisk the instant pudding mix, pumpkin pie spice, and cold milk until the mixture starts to thicken, about 2 minutes.
 

Fold in the 2 cups of whipped cream. Spread over the top of the cake. Sprinkle with chopped pecans.
 
Your Recently Viewed Recipes