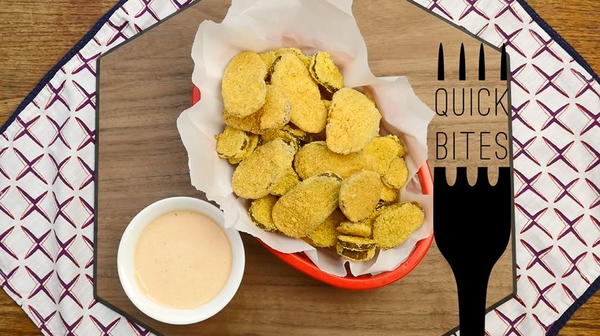 Fried Pickles
Fried Pickles are an appetizer recipe, which many may or may not know, originated in the South. This recipe has only grown in popularity since the 1960s when it first appeared on restaurant menus in America. Since then, many well-known restaurant chains, as well as mom and pop shops have adapted the recipe and thrown their own spin on it. We're aiming to take a classic and make it easy and accessible at home! Now you can impress your friends with a trendy and delicious appetizer, or simply enjoy it yourself when you make these tasty Fried Pickles in the comfort of your own kitchen.
Cooking Time - Text1 -2 minutes
Ingredients
1 cup buttermilk
salt and black pepper to taste
1 (32-ounce) jar dill pickles, cut into 1/4-inch slices

3

/

4

cup cornstarch
2 cups yellow cornmeal
1 teaspoon Lawry
1 quart oil for frying
Instructions
In a shallow dish, combine buttermilk, seasoning salt, and pepper. Place pickles in mixture and set aside.

Pour the flour, cornmeal, salt and pepper into a large, resealable plastic bag; shake to mix well. 

Add pickles a few at a time, tumbling them gently to coat evenly with the flour mixture. Remove and place on prepared plate.

In a heavy and deep pan, heat oil to 350 degrees F.

Fry pickles in several batches until golden brown and slightly crisp on the outside with a moist interior, 1 to 2 minutes. Drain on paper towels.

Let cool, and serve immediately. Ranch or other creamy dipping sauce is recommended.
Your Recently Viewed Recipes